Landscaping Contract Template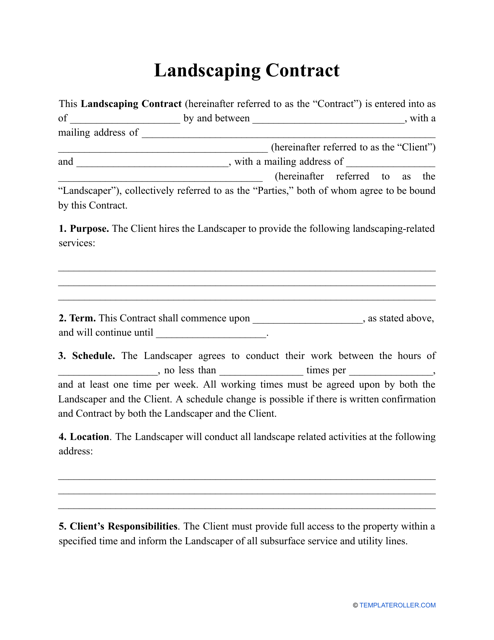 Fill PDF Online
Fill out online for free
without registration or credit card
What Is a Landscaping Contract?
A Landscaping Contract is a legal document signed by a landscaping company and a client that lays out the services the company agrees to provide, and the client agrees to pay for.
You may compose your own personalized form using our online form builder or download a Landscaping Contract template via the link below.
Once you sign a Landscaping Agreement and the services are performed by a contractor, think about finding a lawn care business to make sure your garden remains in good condition. A Lawn Care Contract is a related document that will allow you to maintain the good appearance of your garden - take control of the trimming, irrigation, fertilization, re-seeding, and pest management of your yard or garden.
How Does Contract Landscaping Work?
It can be hard for homeowners to discern if the landscapers they wish to hire have all the necessary licensing, insurance, qualifications, etc. Nowadays most landscapers are found online, but how can you make sure you are choosing the right one? Here are some tips for determining the best landscaping professionals available:
Contact your state and local authorities to find out which qualifications and licenses are mandatory for a company to perform a landscaping project.
Make sure the landscaping company has liability insurance that protects its customers in the event a worker has an accident, or something damages your property.
Ask the company if it has a valid state certification or license from a professional organization. It will guarantee the project's quality and you can be certain the project will be finished on schedule.
Check the landscaper's reputation online - search for "name of your state + company license lookup."
Ask for references and previous examples of the company's work to see if it meets your standards and needs and whether the landscaper has enough experience to render landscaping services.
How to Write a Landscaping Contract?
Basically, a Landscaping Agreement means that the independent contractor offers landscaping services for a specific project for a period of time. It is a temporary arrangement that involves the following terms and conditions:
Name of the landscaper and the client.
The location where the landscaper is to perform their services.
Duration of the agreement and the landscaping schedule. Write down how often the duties must be performed, including during different seasons.
Client's responsibilities. The customer must provide full access to the property within a specified time and inform the contractor of all subsurface service and utility lines.
Full description of the landscaping services - mowing, edging, weed control, cleanup, leaf removal, planting of flowers, etc. The landscaper must supply all equipment, materials, and labor to accomplish these services.
Pricing information. A sample Landscaping Contract must include all negotiated services. Indicate all the costs and expenses - it is recommended to use a pricing table.
Termination clause. The agreement can be canceled by either party upon written notice.
Signatures of the parties or their legal representatives.
---
Haven't found the form you're looking for? Take a look at these related forms:
Download Landscaping Contract Template