Painting Contract Template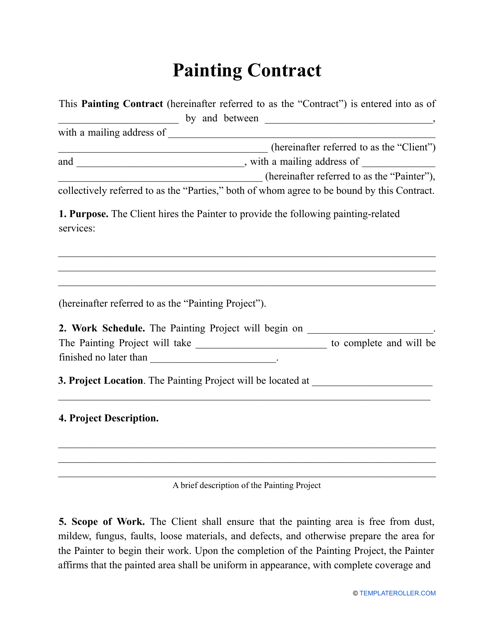 Fill PDF Online
Fill out online for free
without registration or credit card
What Is a Painting Contract?
A Painting Contract is a legal agreement between a painter and a customer regarding a painting job on a house or office. Sign this document with an independent contractor to detail all the specifics of interior and exterior painting services.
Alternate Name:
There is no need to seek a professional lawyer to draft this agreement: you can download a sample Painting Contract template below or use our online form builder to draft your own agreement.
How to Write a Painting Contract?
Follow these steps to make sure you sign the best possible agreement:
Find a painter. Look online or ask your friends and neighbors for a reference.
Have a clear idea of how much you can and want to spend. Determine how much your budget allows for the painting services.
Negotiate with a professional painter. The contractor must offer you a reasonable estimate based on what they are able to provide. Be honest and ask the painter to help you stick within your budget.
Ask questions before you enter into a contract. Find out how many coats are estimated, how long will the job take, what type of protection will be used to cover the non-painted surfaces.
Prepare the location. Strip or sand off the old paint (some Painting Contracts include prep work such as scraping and taping) and remove all foreign objects so that they will not hinder the painter's work.
Painting Contract Terms and Conditions
It is possible to include any details, particular aspects of the painting job, expectations, and responsibilities you and the other party deem necessary in your Painting Contract. However, you should consider adding these specific clauses in your document:
Name of the painter and the client.
Scope of work. Detail all the painting services.
Cost of supplies and labor to paint the house or office space.
Location of the project.
Estimated work schedule. Do not forget to include a completion date. Determine the time frame which affects the overall cost of the estimate.
Types of paint and painting supplies. List them along with the brand names to make sure there is a clear plan. If you would like a specific painting technique used, state that as well.
Signatures of both parties that indicate that both the painter and client accept the terms, scope of work, and price of services.
---
Haven't found the form you're looking for? Take a look at these similar forms below:
Download Painting Contract Template