Decorating Contract Template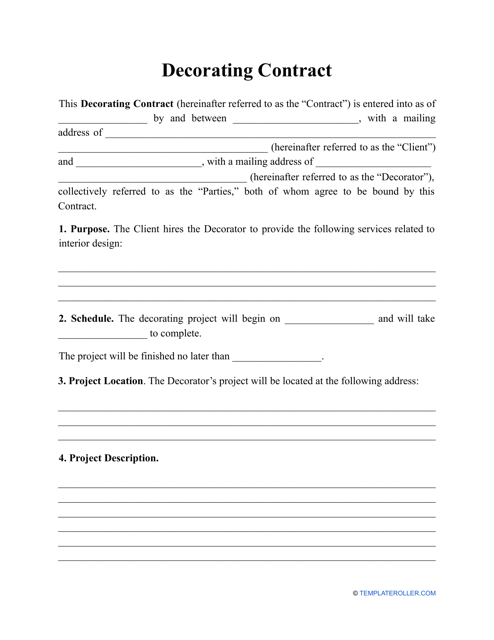 Fill PDF Online
Fill out online for free
without registration or credit card
What Is a Decorating Contract?
A Decorating Contract is an official document signed between the interior decorator and the client to clarify the decoration project scope and the timeline, budget, and payment. An interior decorator can change a residential home or office according to the client's personal preferences and style by selecting color schemes, materials, furniture, and accessories or create a celebration atmosphere for a special event.
Drafting a Decorating Contract is an important step to solve the essential points of decoration before the beginning of the project. It can also help to avoid disagreements as all the terms and conditions are specified in the contract.
You can download our Decorating Contract template through the link below or create your own document with our online form builder. Prepare and sign an additional Interior Design Contract if any remodeling or design is required for your project.
Decorating Contract Clauses
Here's what you need to make sure to include in your contract:
The decorator and the client should agree upon the decorations to be created and on the amount of money the client has to pay.
Determine the quantity and the cost of the necessary materials and accessories, the total amount of charges and potential budget adjustments. Set the decoration service fee and payment schedule.
Define the appropriate acceptance process, penalties in case of payment failure, termination, and cancellation rules.
Set the project completion schedule, which can be divided into completion stages.
Any Decorating Contract usually includes clauses covering services provided, deadlines, estimates and calculations, payment, standards of work, insurance, access to the client's property, working hours and other issues.
---
Haven't found the form you're looking for? Take a look at these related forms:
Download Decorating Contract Template