Construction Contract Template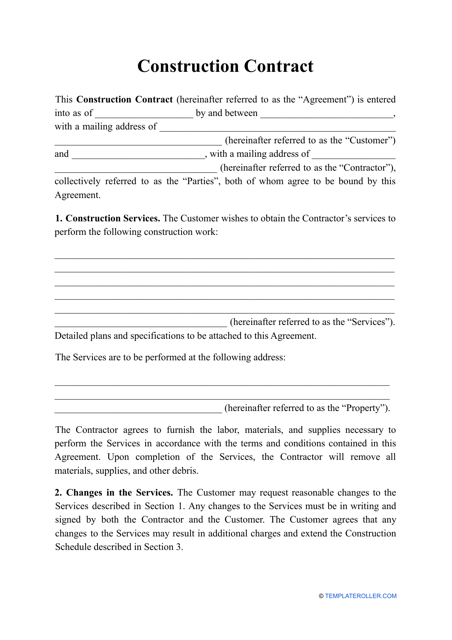 Fill PDF Online
Fill out online for free
without registration or credit card
What Is a Construction Contract?
A Construction Contract is a legally binding document signed by a property owner and a contractor that records the details of construction work to be performed on the property. Generally, an agreement for construction establishes the scope of the work to be done and the main terms and conditions of the agreement.
Alternate Names:
Construction Agreement;
Building Agreement.
This document is a must if you need to hire a contractor to build a new property or renovate an already existing one, or if you, as a contractor, have to be in charge of building or renovating a property. Download a Construction Agreement template below or create a more personalized document using our online form builder.
Types of Construction Contracts
The most common types of Construction Agreements are:
Lump-Sum Construction Agreement. Negotiate the price for all work before construction begins.
Cost Plus Building Agreement. The buyer agrees to cover all the expenses of the project, including materials and labor, even if the ultimate cost of the works is uncertain, and the contractor receives a fixed fee.
Target Cost Construction Agreement. It records an approximate estimate of the project, and the parties agree to pay extra if the final cost of the works exceeds the initial expectations.
Unit Price Construction Contract. This document includes the estimated price of items needed for construction, and the final price of the project can be known only when the work is over.
What to Include in a Construction Contract?
Construction Agreements should include the following information:
The main terms of the agreement. Describe the purpose of the contract, enter the date and the names of the parties, the location and the name of the project.
Scope of the work. List the tools, equipment, and materials that will be used to work on the project. Outline the construction process. Try to be as specific as possible to avoid future misunderstandings and disputes.
Financial details. Write down the amount of money to be paid and the method of payment.
Claims and disputes provision. Choose a jurisdiction for a potential lawsuit and decide with another party how to deal with possible disagreements that may occur in the future.
Coverage information. Add the insurance information and provide the details on the contractor's license if it is required for certain types of work.
Signatures of the parties and their contact details.
Obviously, the parties may negotiate other standard clauses they need - assigns and successors clause, severability, etc. If needed, you can include a projected construction schedule or warranties. The specific arrangements must be determined in accordance with the needs of both parties to the agreement.
---
Related Forms and Templates:
Download Construction Contract Template