Contractor Warranty Form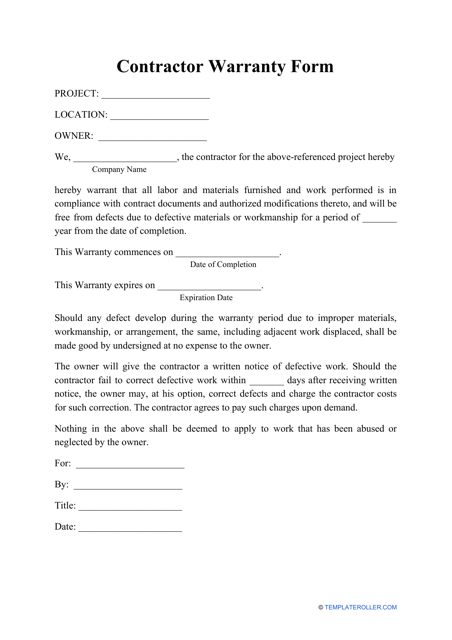 What Is a Contractor Warranty?
A Contractor Warranty is a typed or handwritten document completed and signed by the contractor who guarantees that the construction project will be created in a workmanlike manner, without any major flaws and defects, and will meet safety and quality standards universally accepted by the building and construction industry. The purpose of this document is to make sure the contractor performs services to the best of their ability with the proper materials.
Alternate Name:
Contractor Workmanship Warranty.
You can download a printable Contractor Workmanship Warranty template through the link below.
A general Contractor Warranty is the best way to know the construction will be done properly and in accordance with the design and cost estimate. If any problems or issues arise during the construction, the contractor who signed the warranty will reimburse their client for the damage.
How to Make a Contractor Warranty?
It is possible to add a Contractor Warranty to the Construction Agreement signed by the owner of the construction project and the contractor before the works begin. However, it is recommended to create a separate document to spell out in writing the liability of the contractor to build or repair the project using the best possible equipment, materials, and labor.
Includes the following details when drafting your own Contractor Warranty Form:
Identify both parties to the original Construction Agreement - add their names and contact information. To add more security to the warranty, you can refer to the original contract and indicate when it was signed.
Describe the work and repairs that must be performed by the contractor. There is no need to add the price of contractor services or other details (e.g., the location of the property, etc.) if it is mentioned in the attached Construction Agreement.
Confirm the fact that all construction work, including hardware and materials, will be free of any deficiencies and will comply with existing building standards.
Acknowledge the contractor's willingness to correct defective work within a certain period of time - you can negotiate any correction period, but usually, it does not exceed one year. The contractor must agree to pay for any construction-related expenses that take place as a result of their negligence. There must also be a promise to return to the location of the job to replace or repair any defective work or materials. You can also add the contractor's responsibility to hire someone else to finish the job correctly by entering into a Subcontractor Agreement. However, if the correction period expires and the construction fails somehow, the contractor cannot be liable for it.
Certify you have understood the conditions of the warranty and sign the document. The client should also sign and date the form to show their acceptance of the warranty. Make two copies of the Contractor Warranty for each party to have - this kind of evidence will be invaluable if you have disagreements or even court disputes in the future.
---
Related Forms and Templates:
Download Contractor Warranty Form