Hold Harmless Agreement Template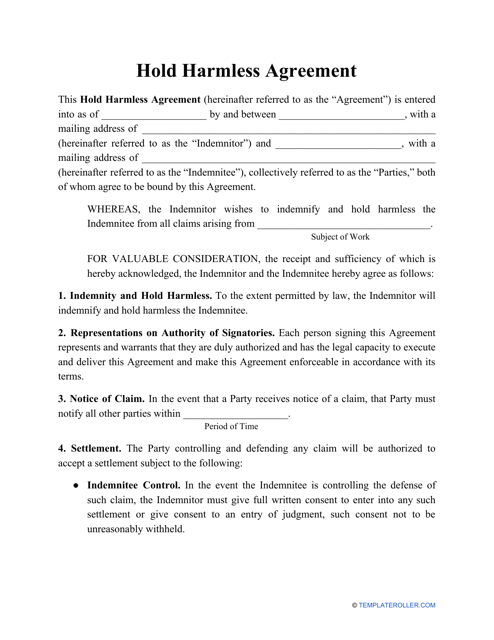 Fill PDF Online
Fill out online for free
without registration or credit card
What Is a Hold Harmless Agreement?
A Hold Harmless Agreement is a legal contract in which one party releases another party from legal or financial responsibility. The purpose of the document is to provide a party with a liability waiver. The agreement can be presented as a separate document or as a clause that can be included by parties in another legal contract (for example, it can be included in a Lease Agreement).
Alternate Names:
This document is similar to an Indemnity Agreement, a type of agreement in which an indemnitor is agreeing to compensate the indemnitee's potential losses. Despite the resemblance, a Hold Harmless and an Indemnity Agreement serve different purposes and are considered to be different kinds of documents by the majority of specialists.
Download a printable Hold Harmless Agreement template through the link below or you can make your own using our online form builder.
How to Fill Out a Hold Harmless Agreement?
Completing the document is a complicated and time-consuming process since there are a lot of important things that should be taken into account. A common Hold Harmless Agreement should contain the following:
Information about the parties. A document should start with a title, that can be followed by information about the parties involved. A filer should designate the parties' full names and addresses.
Subject of the contract. In this part of the document, one party will agree to hold harmless and release from liability another party, list the situations in which they are held harmless, and describe the types of damages that are not considered to be their liability.
Exceptions. If there are any specific limitations to when a party is held harmless, or in reverse, when they are considered to be responsible for damages, they should be listed here as well.
Duration of the agreement. Here a filer must state the period of time in which a party is held harmless and is released from liability.
Parties' rights and responsibilities. This part of the agreement should contain all rights and responsibilities that each party has due to this document.
Other terms and conditions. If there are any other statements that parties would like to include in the document, they should designate it here.
Parties' contact information. The parties involved in the agreement should state their telephone numbers and emails for notification purposes.
Parties' signatures. To state their will and express that they fully understand and agree on everything written in the document, parties should sign the contract.
Parties can include other sections in their agreement, such as governing law, severability, information about their representatives, jurisdiction, expenses, and other things that they have agreed on.
Do Hold Harmless Agreements Hold Up in Court?
Often individuals think that signing a Hold Harmless Agreement will completely protect them from any kind of litigation, or will guarantee a decision that will support their side. However, this is not quite right. Whether the Harmless Agreement will stand in court depends on a lot of aspects, which can include the following:
The circumstances of the situation. Each situation is different and the court will research each item of the case, even though it might look unimportant in the beginning. The wording in the agreement, the evidence, the documents provided to the court - everything will be thoroughly inspected and taken into account.
The content of the agreement. It is vital to carefully draft the agreement before signing it. A party should make sure there are no limitations designated in the agreement itself, in which they can still be held liable for any losses.
The common law and litigation tendencies of a state. Some states take these kinds of agreements more seriously than others, that's why it is important to check if there are any specific state regulations regarding this document. Parties should make sure that the agreement does not violate any state's laws or policies.
---
Not the form you were looking for? Check out these related documents:
Download Hold Harmless Agreement Template