Freelance Contract Template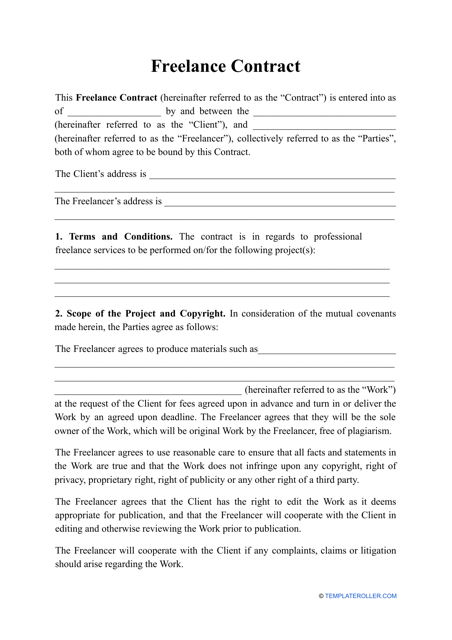 What Is a Freelance Contract?
A Freelance Contract is an agreement between a freelance contractor and a specific company signed for the duration of a specific project. This contract ends when the project is complete, covering the details of the job and the compensation the freelancer will receive. Download a Freelance Contract template through the link below or create a personalized contract with our online form builder.
Is there a Difference Between a Freelancer and an Independent Contractor?
A freelancer is considered a self-employed individual who pays self-employment taxes, does not have employees, sets their own rates, and works remotely on a number of different projects. Independent contractors, on the other hand, tend to work from their clients' offices on one project at a time, usually for a number of months.
When employing staff, it is necessary to determine the method which will work best for your business needs. There is a clear benefit of hiring freelancers, and that is the flexibility that it provides. Freelancers can complete big and small projects, on a long or short-term basis. Recruiting freelance workers is relatively easy: you can post a project or job on a freelancing website and then, based on the applications received, decide who has the most experience and the best skills to provide freelance services.
How to Create a Freelance Contract?
Follow these steps to compose a Freelance Agreement:
Introduce the parties to the contract.
Establish the scope of the project. Agree on the tasks that must be performed under this agreement.
State payment details and indicate the dates the freelancer is paid for the services rendered.
Outline the project schedule. Set deadlines after negotiating them with the other party as a security measure for both of you.
Add the copyright information. Generally, freelancers reserve first serial rights, electronic rights, print rights, etc. This section is crucial if you're looking to avoid having your clients use your creations without permission.
Sign the document. Once the papers are signed, the agreement becomes legally binding. It will be recognized as evidence by a court of law in the case of disagreements or disputes.
What to Look for in a Freelance Contract?
When negotiating with a counterpart, discuss the following provisions and put them in writing if you wish:
Payment schedule. Some freelancers prefer to receive installments, or half now, half after the work is finished.
Revisions. A client reserves the right to ask for a revision, rewriting, or redesigning, and most freelancers offer two (three at most) free revisions - it depends on the nature of the work.
Kill fee. If a project is canceled, a freelancer will be paid for the work already done. It is possible to charge up to 50% to deliver compensation on the work that will not be put to use.
Scope creep. Avoid uncontrolled changes in the volume of work by adjusting the rates should the scope of the project increase.
If you are looking for a consistent monthly income, consider securing your career by signing a freelance Retainer Agreement. This document outlines a contractual relationship between you and a business and guarantees a certain amount of work at a specific rate. It will allow you to schedule your work ahead of time and work for your client on a regular basis. More experienced freelancers have several long-term retainer agreements, enjoying a stable income, a clearer work schedule, and a more reliable relationship with their clients.
---
Still looking for a particular form? Take a look at these similar forms below:
Download Freelance Contract Template