Payment Agreement Template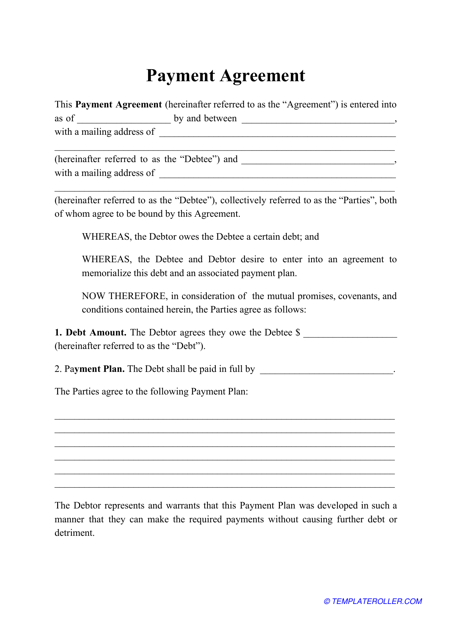 Fill PDF Online
Fill out online for free
without registration or credit card
What Is a Payment Agreement?
A Payment Agreement is a legally binding contract between a lender and a borrower through which the parties agree to a mutually acceptable repayment schedule. The document then serves as a receipt and includes the details of the loan, interest rates, and payment periods.
Alternate Names:
Payment Contract;
Installment Agreement.
The agreement generally serves to ensure that the payment for the product or service rendered is made on time and in full. Failure to abide by the terms of the agreement counts as a breach of contract. Drafting a Payment Agreement and sticking to its terms will help you stay protected throughout the duration of the loan.
Use our online form builder to make a personalized Payment Agreement template according to your own requirements or download a ready-made form through the link below.
Payment Agreement - What to Include?
The agreement has to contain several specific sections that are vital for the protection of both parties in the event of a dispute or default. These include:
Loan amount.
Payment schedule.
Release and indemnification.
Procedures in case of default.
Representations and warranties.
Severability.
Legal fees.
Governing state law.
How to Write a Contract Agreement for Payment?
Ready to draft your contract but unsure of what to include? Below are the steps to preparing a secure Payment Agreement:
Start with a blank template and begin gathering the necessary information. The date upon which the agreement is drafted will be the date it comes into effect. A grace period, if granted, should be specified as well.
Insert the details of both the lender and the borrower, including their full legal names and mailing addresses.
Define the payment details. This includes specifying the means by which the payments will be made, the frequency with which they will be paid, and the exact terms of payment, including information about the amount, warranties, and representations. Specify the conditions under which a payment is considered late or unsatisfactory and add information on how the parties will resolve any disputes.
Draft a payment plan with the exact dates, amounts, and fees for late payment.
Have the other party sign the agreement and provide your own signature.
---
Not the form you need? Check out these related templates:
Download Payment Agreement Template