Event Planning Contract Template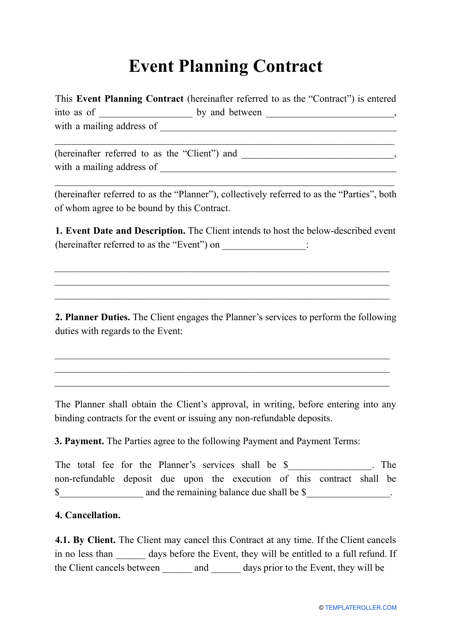 Fill PDF Online
Fill out online for free
without registration or credit card
What Is an Event Contract?
An Event Planning Contract is a legal document that contains the terms of engagement between the event planner and the client. It is a crucial step in the event management process because it allows all the parties involved in the agreement to know the inclusions of the event planner service package. This type of Service Contract helps to avoid misunderstandings within the entire period of the transaction.
Alternate Name:
There is no need to hire a professional lawyer to help with drafting a simple agreement between the client and the event planner. You can create your own Event Planning Contract template using our online form builder or download a ready-made contract through the link below.
How to Write an Event Planning Contract?
An Event Planning Agreement is a safety net for everyone involved. It is not wise to have a verbal-only agreement, even when dealing with a loyal individual or company you have developed a rapport with. From a financial point of view, the contract will protect the parties and will prevent unnecessary disagreements or discussions that may lead to an eroded business relationship.
To safeguard the interests of both parties, make sure your contract for event planning contains all necessary details:
Full names and addresses of the client and the event planner.
Date and description of the event.
Planner duties. Outline all services to be provided in full detail. If something is not listed in the contract, it is not covered legally, so revisit, revise, alter, and hone all the specifications in the agreement. In case the planner requires client approval before entering into any related legally binding contracts for the event, mention it in your document.
Payment information. State the total fee the planner will receive along with a non-refundable deposit. It is highly recommended to include the estimated budget for the event and the payment schedule to follow.
Cancellation. Each party has the right to cancel the agreement entitling the other party to a full refund. It is possible to negotiate other terms and conditions in case of early termination.
Severability. If any of the provisions become invalid or unenforceable, this clause will be severed from the remainder of the contract, and all other provisions remain in full force.
Signatures of the parties. Once the agreement is signed, the document becomes legally binding.
The parties are free to add other terms and conditions if they want to. For instance, a force majeure clause will provide the event planner with legal cover if services have to be canceled due to circumstances beyond anyone's control, like extreme weather conditions. You may establish fines and penalties for failing to meet a payment deadline.
Make sure the agreement explicitly spells out clear expectations set as to what the event planning services will be. Define those services in the section devoted to the duties of the planner. And most importantly, do not sign the document until you are fully satisfied with its terms.
---
Want to find out more? Check out these related agreements and contracts:
Download Event Planning Contract Template