ACH Authorization Form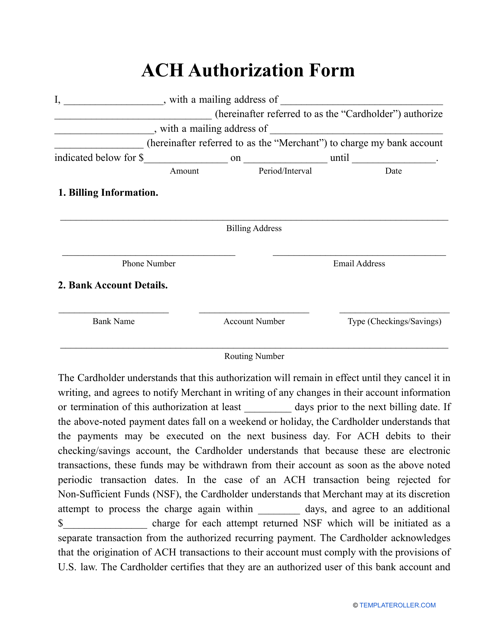 An ACH Authorization Form is a document that can be used by individuals and entities who would like to set up regular payments from their bank accounts. The purpose of the document is to let the lender withdraw payments from the borrower's account automatically when the money is due.
Alternate Names:
ACH Form;
ACH Payment Form;
ACH Payment Authorization Form.
If you are a business and you are looking into making this type of document for yourself to use, then you can check out our ACH Form template which can be downloaded below.
What Is an ACH Form?
An ACH (Automated Clearing House) transfer moves money between bank accounts through the ACH network. It can be convenient for those individuals who have a recurring payment (a loan or a mortgage) and would like it to be withdrawn from their account regularly to their lender. To be able to use ACH Payments you need to complete a blank ACH Form and give it to your lender. You can get one from a business whom you are paying for goods or services they provide you.
How to Fill Out an ACH Form?
There is no standardized format for an ACH Form, however, there are some necessary elements that must always be included in it. If you preparing one to collect payments from your customers, then your form can contain the following parts:
Title. Depending on the circumstances of your situation and on your personal preference, you can call your document a "One Time ACH Payment Authorization," "Recurring ACH Authorization Form," or something similar.
Information About the Payer. In this part of the document, your customers will be required to designate their name and state that they agree to authorize you (the business) to charge their bank account (or credit card) for a certain amount of money once (or regularly). If the payment must be transferred regularly, then they should state on which date of every month (week, year) it must be done. Additionally, they can state the nature of the payment (the goods or services you provide).
Information about the Payee. Here, you, as the recipient of the payment, are required to provide your name.
Billing Details. These details include the billing address of the customer, their phone number, and email address.
Payment Details. This part can be divided into two sections:

The first section ("Credit Card Information") is supposed to be completed if the payer transfers money from their credit card. In this case, they should state their card type, card number, expiration date, CVV, and more;
If the payer wants to transfer money from their bank account, then they should designate their account type, bank name, name on the account, account number, etc. in the second section ("Bank Details").

Signature and Date. After the payer has completed the form, to validate their identity and confirm their intention to authorize you, they must sign the document and put a date when they signed it.
---
Not what you need? Check out these related topics:
Download ACH Authorization Form