Free Bookkeeping Templates
What Is Bookkeeping?
Bookkeeping refers to a process of keeping unabridged records of all financial operations of the business. You can always examine your records to learn more about the financial transactions of the past, add and update the information to document how much money you have earned, and see what debts and liabilities you still have to deal with.
If you are wondering what is bookkeeping and how to properly record money your business spends, our guide of documents will tell you how to run your business smoothly, safeguard it from financial troubles, and learn bookkeeping without seeking professional bookkeeping services.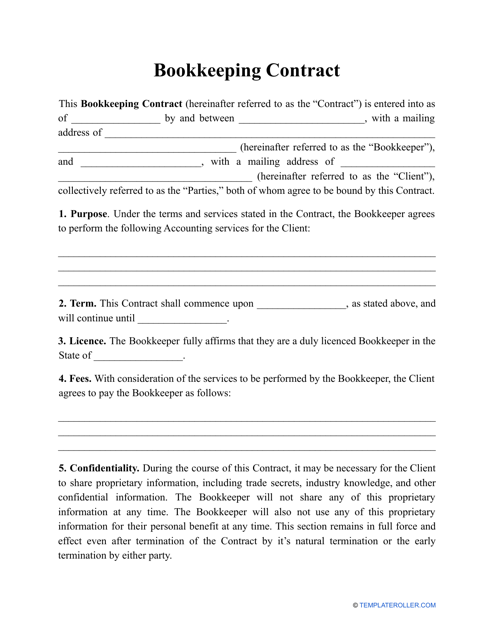 PDF
Is your business in need of a bookkeeper? Are you a bookkeeper looking to sell your services to a company? This document gives you the perfect format to market your products or services while providing guarantees for any produced work.
What Is the Difference Between Bookkeeping and Accounting?
Despite the considerable overlap between accounting and bookkeeping, there is a significant difference. Bookkeeping refers to the process of recording business transactions while accounting allows you to interpret, classify, and report the data you have at your disposal.
How to Do Bookkeeping?
Whether you decide to pay for bookkeeping services or draft the documentation yourself, you can see our library of templates below to know more about bookkeeping basics and keep track of all financial transactions your company is involved in.
How to Do Bookkeeping for Small Business?
There are six main steps for any small business that requires accurate bookkeeping:
Create business accounts – use any of the forms above to start tracking your operations.
Record every transaction – some of them must be documented in various spreadsheets and ledgers because later you will have to report your financial activity to authorities.
Reconcile and balance your records – all the totals must match.
Prepare financial reports – a Balance Sheet, along with other financial statements, will show how and when your entity spends its money.
Follow the schedule – once a month or, better, a week check all the documents, invoices, and receipts.
Store the documentation securely – make copies of forms and templates to safeguard your business.
---
Related Forms and Templates: