Employee Loan Agreement Template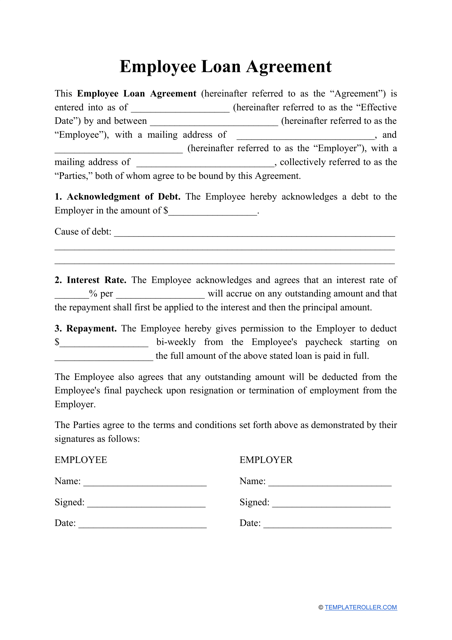 Fill PDF Online
Fill out online for free
without registration or credit card
What Is an Employee Loan Agreement?
An Employee Loan Agreement is an agreement between an employer and an employee, which contains the consent of an employer to provide a loan to an employee, which will be further deducted from the employee's payroll.
Alternate Names:
Employee Advance Agreement;
Salary Advance Agreement.
An Employee Loan Agreement format assumes the use of the following structure of the form:
Information about an employer and an employee.
The terms and conditions for granting a loan, including its amount, interest rate, and dates of the deduction.
The conditions for repayment of debt in the case of termination of an employee's employment in the organization.
You can download our free Employee Loan Agreement template through the link below or create a customized agreement with our online form builder. This document is a type of Loan Agreement - a contract between a borrower and a lender, that can be drawn up for different types of loans, such as term loans, overdrafts, secured loans, unsecured loans, and many others.
How to Write an Employee Loan Agreement?
Here's what you need to do to draft your own "employer loan to employee" agreement:
Enter the date of the agreement.
Provide information about the parties of the agreement - the employer and the employee. Enter their legal names and addresses.
State that the employee admits the presence of a debt to the employer. Indicate the total debt amount and the reason for its provision.
The employee must express their consent to the accrual of an interest rate on any outstanding amount. The employer has a right not to apply an interest rate if it is allowed by state law. State the interest rate amount per year. The employer must specify that the interest should be repaid first and then the principal amount.
Indicate that the employee permits the employer to deduct the specified amount per paycheck from their payroll until the loan is paid off. Provide the frequency of these deductions. For example, it can be every two weeks. Enter the initial date of the deductions and the period of the loan provision.
State the obligations of the employee if their employment in this company is terminated for any reason. In this case, the employee should express their consent with the deduction of any outstanding amount from their final paycheck.
If the final paycheck is not sufficient to repay this loan in full, the employee must consent to their agreement to continue paying their former employer until the loan is paid off. It is necessary to notice that even if the employee does not fulfill their obligations regarding the debt, the employer has the right to collect the indebtedness from their expenses (including attorney's fees).
Specify the applicable laws that govern this agreement, confidentiality statements, and dispute resolution.
The employer and the employee should sign the form and enter the date of completion.
---
Related Templates and Topics:
Download Employee Loan Agreement Template