Mortgage Lien Release Form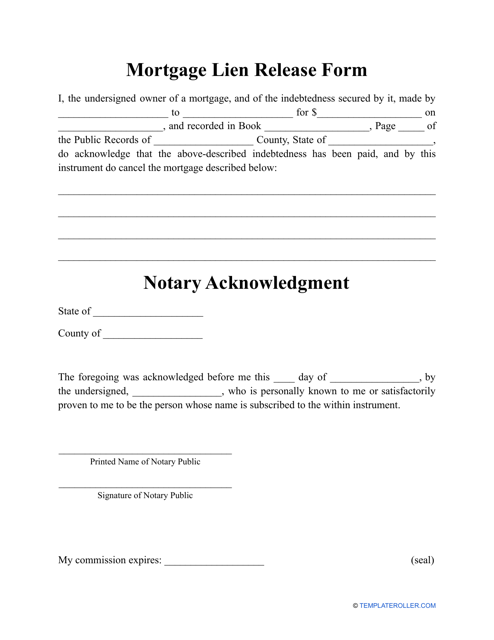 Fill PDF Online
Fill out online for free
without registration or credit card
What Is a Mortgage Lien Release?
A Mortgage Lien Release Form is a formal document that contains the approval of the mortgage lender to release the property owned by the borrower from the lien. Download a printable Mortgage Lien Release template via the link below.
Alternate Names:
Satisfaction of Mortgage Form;
Mortgage Lien Release Letter.
This agreement is prepared and signed by the parties once the last payment was received by the mortgager who then releases the mortgagor's house or apartment from the lien. Without it, the real estate owner will not be able to transfer this property, so make sure you obtain a proper certification of the lien release from your lender. Additionally, the lack of a lien release may create problems for the lender - they will be responsible for all the unnecessary expenses the borrower bears.
How to Write a Satisfaction of Mortgage Form?
Follow these steps to compose a Mortgage Satisfaction Form:
Identify the parties of the original mortgage agreement and this document as well - the mortgagor and the mortgagee. The first party is the individual who borrowed money to pay for their residential property and pledged this house or apartment to secure the loan, while the second party can be a person or financial institution (usually, a bank) that issued a loan to the mortgagor so that they can pay for their home.
Describe the property in question - add its full legal address to avoid possible issues or disagreements. Refer to the loan taken out by the borrower and certify that all mortgage payments have been made in full. The mortgagee must confirm they are satisfied with the payments, the mortgage is discharged, and they will not file a lien against the property in the future.
Sign and date the form in the presence of a notary public who then puts their seal on the document. The parties then submit the form to the county clerk's office as proof that the mortgage no longer burdens the property - the clerk will review the documentation, eliminate the lien from the property title, and amend the public records to show the mortgage has been paid. Signatures and public records matter - without proper acknowledgment of the mortgage release, the former borrower will not be able to sell or transfer their property, and it is the homeowner's responsibility to obtain every confirmation that demonstrates the release of the mortgage lien.
---
Haven't found what you're looking for? Take a look at the related templates below:
Download Mortgage Lien Release Form