Partial Release of Lien Form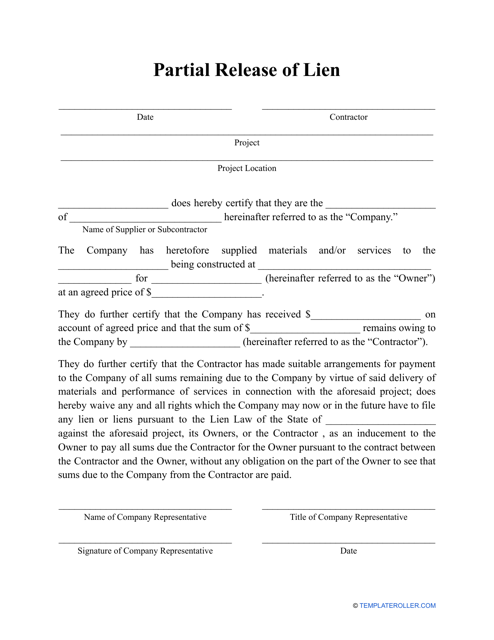 Fill PDF Online
Fill out online for free
without registration or credit card
What Is a Partial Release of Lien?
A Partial Release of Lien is a written statement prepared by the lienholder to confirm the lien amount is reduced and they agree to claim only a part of the lien. A Partial Release of Lien template can be downloaded via the link below.
Alternate Name:
Partial Release of Lien Form.
In case the owner of the property can only pay a limited sum of money for the items burdened by the lien, they can negotiate with the lienholder and adjust the amount of lien if the significant payment is made. For instance, the lienholder might file a mechanics lien with the local authorities and claim the owner owes them $50,000 for the repairs made. The debtor then asks for the Partial Release of Lien paying the lienholder $10,000 after which the lienholder submits the copy of the release to the county clerk to show the balance owed has dropped to $40,000.
How to Get a Lien Release?
Follow these steps to release your property from the lien:
Reach out to the lienholder to request the release. You may enter the negotiations with them and discuss what to put in the text of the release.
Correctly specify the property to be released from the lien. For instance, a Partial Release of Judgment Lien should contain a legal description of the property and all man-made objects that cannot be removed without harming the land if the lienholder is willing to include them in the release.
Record the details of the payment - the property owner must promise to pay a certain sum of money. Do not forget to indicate the method of payment suitable for both parties.
Certify the owner of the vehicle or real estate understands the Conditional Partial Release of Lien depends on them providing the required amount of money to the lienholder. Once the payment is made, the lienholder must partially release the property and sign the document confirming they will not file another claim on the portion of the property now free from liens and encumbrances.
In case the property owner owed not only the contractor but third parties hired to work on their items or real estate, it is necessary to issue a check for multiple parties to make sure they get their payment on time.
Bring the document to the notary public to obtain the acknowledgment of the release. The parties must not sign the papers before they show up for notarization.
Submit the signed Partial Release of Lien Form to the local country clerk or county recorder.
---
Haven't found the template you're looking for? Take a look at the related templates below:
Download Partial Release of Lien Form