Revolving Credit Agreement Template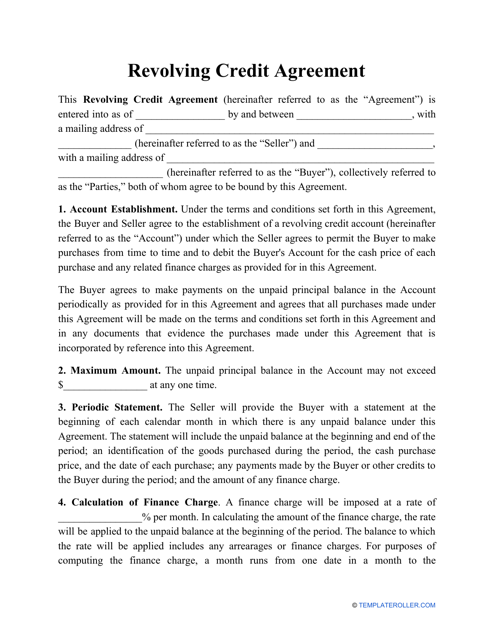 Fill PDF Online
Fill out online for free
without registration or credit card
What Is a Revolving Credit Agreement?
A Revolving Credit Agreement is a contract between a seller and a buyer who agree to create a revolving credit account. According to a Revolving Credit Agreement, a seller allows a buyer to make purchases under this account on the terms and conditions established in the agreement. The loan amount on this account can be refunded or withdrawn any number of times.
Alternate Names:
Revolving Line of Credit Agreement;
Revolving Credit Facility Agreement.
A buyer has to repay a revolving loan, including the financial charges, applied to the unpaid balance, and delinquent charges in the case of late payment. The usage of revolving credit lines provides liquidity for the buyer's daily transactions. Examples of revolving credit are credit card loans and overdrafts.
A Revolving Credit Agreement template can be downloaded below or you can make your own using our online form builder.
How to Write a Revolving Credit Agreement?
A Revolving Credit Facility Agreement usually contains the following:
Introduction. Enter the date of the agreement. Specify the legal names and addresses of the parties: the seller and the buyer.
Establishment of the Account. The parties have to arrange the creation of a revolving credit account.
Maximum Credit. Indicate the limit of the unpaid balance, which it is not allowed to exceed.
Periodic Statement. The seller is obliged to present the buyer with a statement that contains the total unpaid balance at the beginning and end of the reporting period, a list of the buyer's purchases, including prices and dates, and the total finance charge amount of the buyer. A periodic statement should be provided by the seller each calendar month.
Calculation of Finance Charge. Enter the rate of the finance charge, which will be applied to the unpaid balance at the beginning of the statement period. Indicate that the finance charge is applied every month.
Payment and Delinquent Charges. The buyer must express their consent to pay the minimum amount, stated in the monthly statement, by a particular date. Set the acceptable payment delay conditions, including the number of days of delay and a delinquent charge amount that will be imposed on the buyer at the end of this period.
Prepayment. State the ability of the buyer to pay fully or partially the unpaid balance at any time. Indicate that the seller is not allowed to apply any prepayment charge regarding these payments.
Cancellation. State that the seller and the buyer have a right to cancel this agreement at any time. For this purpose, they should provide a written notice to the other party. Indicate that giving this notice does not release the parties from their responsibilities to repay any unpaid balance and to collect the debt correspondingly.
Specify the applicable laws that govern this Revolving Credit Agreement. The seller and the buyer have to sign the agreement and enter the date of its completion.
---
Looking for something else? Check out these related files:
Download Revolving Credit Agreement Template