Credit Reference Request Form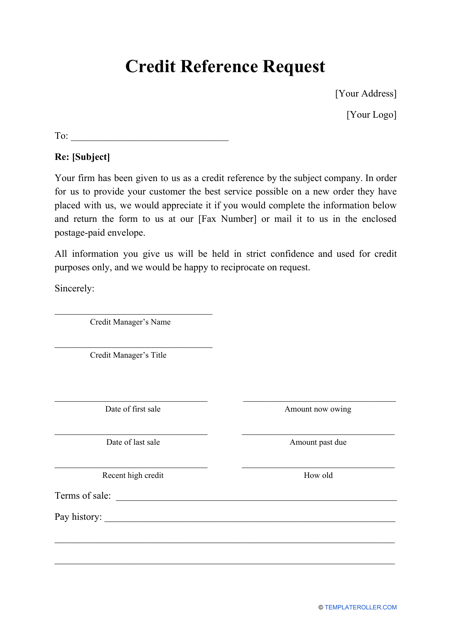 Fill PDF Online
Fill out online for free
without registration or credit card
What Is a Credit Reference Request Form?
A Credit Reference Request Form is a document completed to ask any company or financial institution you have worked with at some point in time for a reference required to obtain credit from a third party. If you need a Credit Reference Request Letter template, you can download it through the link below.
Alternate Name:
Credit Reference Request Letter.
Whether you are opening an account in a new bank, preparing to enter into a transaction with another party, or looking to rent an apartment, prepare a Request for Credit Reference - the document will provide your potential lender or counterpart with financial details - items on your credit history, tax debts, and potential defaults.
How to Fill Out a Credit Reference Request?
Before you complete a request for a credit reference, consult with your future service provider or lender to see whether they have special instructions or templates to fill out. For instance, they may prepare a list of questions with "yes" and "no" answers to facilitate their background checks. If the Credit Reference Form does not comply with the lender's requirements, it will not be useful for you. Before you send a Credit Reference Request, draft a Credit Report Authorization Form for your prospective lender - it will allow them to look into your company and learn more about your creditworthiness.
Here is how you prepare a Credit Reference Request:
Write down your name and contact details.
Explain the reason for your request - name the company or institution that needs assistance in making a credit decision and ask the reference provider to share the details of your professional relationship.
Indicate the information you need to see in the reference - credit limit, present balance, history of payments, late payments, time the account has been opened, etc. The details in the reference depend on the type of organization you are requesting a reference from - if it is a business you have entered into agreements with, they can make their reference more personal by sharing their experience of working with you.
Give the writer of the letter explicit authorization to share your personal financial status.
When composing a letter, ask for a favor politely - otherwise, you may not get a reference you are seeking.
Explain where to send the reference when it is ready - you may want to see it first or the letter writer can just send it directly to your future lender.
Sign the request and offer to stay in touch in case the letter writer needs to clarify certain details.
Prepare several Credit Reference Requests and mail them to various organizations you have dealt with in the past or at the moment. Do not wait for one specific reference, especially if you are looking for a trade reference. Note that a bank Credit Reference Request is easier to obtain - while a business owner can simply deny your request, a banking institution will likely supply you with much-needed information.
---
Looking for something else? Check out these related files:
Download Credit Reference Request Form