Business Reference Letter Template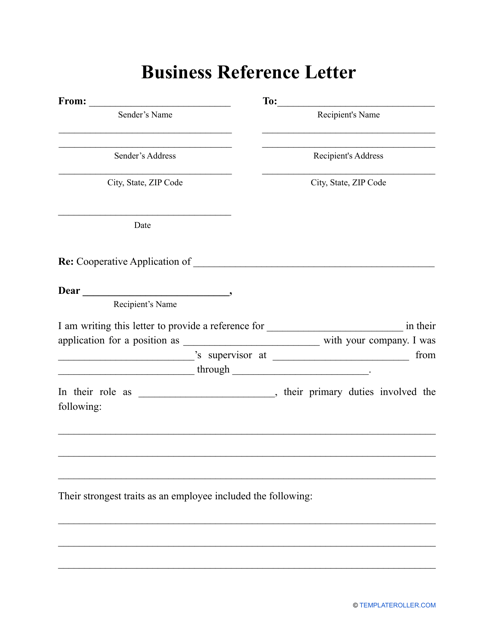 Fill PDF Online
Fill out online for free
without registration or credit card
What Is a Business Reference Letter?
A Business Reference Letter is a letter of reference written by one organization, recommending a product or service of another business. It confirms the quality of service or products that a company offers, based on past experiences with them. This is particularly beneficial for businesses that want to attract new clients.
Alternate Name:
Business Letter of Reference.
In today's world, with such a wide range of business products and services available, it can be incredibly difficult to stand out from your competitors and contend with them if you do not have a professional Business Reference Letter from previous customers. As a business that wants to prosper, you understand that there are many potential clients out there who will be interested in your business idea. The most optimal way of showcasing your business to potential clients is through references. That is why it would be a good idea to have these references on hand before approaching potential clients.
A Business Reference Letter template can be downloaded by clicking the link below.
How to Write a Business Reference Letter?
The specifics of a Business Reference Letter will vary slightly depending on the type of business. A standard Business Reference Letter format will include the following points:
Contact details of the company you plan on sending the letter to.
Explain the purpose of the reference. This should be short, concise, and clear.
Date of the letter to show that the reference is relevant.
Formally address the intended recipients.
Ensure you have all of the relevant information about the business. If you are going to provide a positive reference for a business, you need to have all of their up-to-date information which includes the name, address, contact details, their business niche, and working hours. Such information will make it easier for a potential customer to get in touch with a business. You do not want to make a potential customer have to do the research themselves, otherwise they could lose interest.
Include your own contact details.
Outline the name of the company (the intended recipient of the letter) and the name of the company writing the reference.
The main bulk of the reference should be a descriptive outline of the product or service you received and the positive experience that you encountered. This should reflect reasons as to why a potential customer would want to hire this company.
Explain the result of the product or service you experienced and outline the reasons why you were content. Mention reasons as to why you would consider hiring the company again in the future.
It may also be a good idea (although not required), to offer the recipient of the letter the opportunity to get in touch with you in case they have any more questions and would like to find out more. Inform them of the best method to contact you.
Sign off formally, giving the recipient your best regards before printing your full name and signing.
---
Still looking for a particular template? Take a look at the related templates and samples below:
Download Business Reference Letter Template