Character Reference Letter for Court Template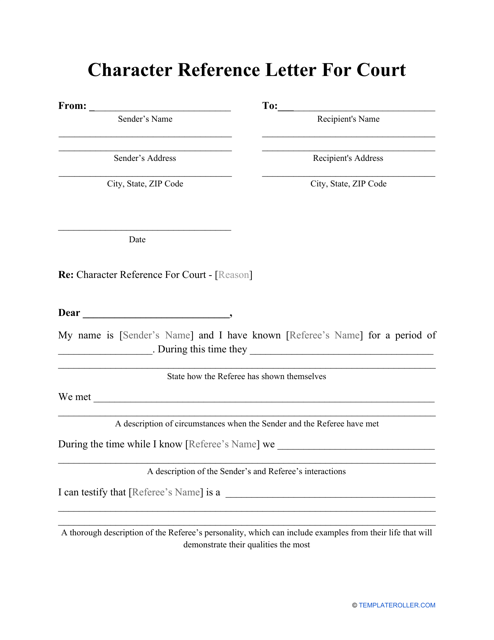 Fill PDF Online
Fill out online for free
without registration or credit card
What Is a Character Reference Letter for Court?
A Character Reference Letter for Court is a typed or handwritten statement that verifies the individual's personal characteristics if they are involved in a court case and need to demonstrate their values and traits to the judge. Usually prepared by a family friend, mentor, teacher, employer, or spiritual leader, this document verifies your importance for their life and proves that your potential jail time can lead to distress, loss of money, and other issues for them. Download a printable Character Reference Letter for Court through the link below.
Whether you need to clear your reputation and defend yourself from unfair charges and accusations you have heard in previous court hearings or you are contesting custody of your child with the intention to provide them with stable family life, a Court Character Reference Letter is a great legal tool that adds extra weight to your personal declarations and claims in court.
How Do I Write a Character Reference Letter for Court?
To create a reference that depicts you in the best possible light, you should find a person who knows you for a long time and is ready to give you a helping hand. Here are some tips for the individual who has to prepare a Letter of Character Reference for Court:
Ask the individual for whom you are drafting a letter for their advice - they may have prepared a Character Reference Letter for Court template already and you can just fill out the document they provide. Also, you may request documentation that proves their education and work experience to attest to their professionalism in your reference.
Explain that the offense the individual is accused of is out of character for them. List the positive traits you were able to witness personally during communication with them.
Do not suggest zero responsibility for the offense committed by the individual, but you can explain they have felt remorse for their actions and are willing to redeem themselves by accepting the court's final decision.
If the individual's jail sentence or deprivation of custody has a negative effect on you and other people you know, describe the possible problems that arise and ask for a lenient decision or custody for this person in your Character Reference Letter for court sentencing.
Be sincere and truthful. If you refer to episodes and documents that can be checked by the judge, you cannot provide false information, especially if there is a chance you might be asked to testify in the hearing later.
What Should Be in a Character Reference Letter for Court?
Include the following details in your Letter of Character Reference for Court:
Proper introduction - write down the name and title of the recipient (the last name of the judge or the identification of the court) and introduce yourself;
Purpose of writing and an indication of when and under which circumstances you have met the individual in question;
Confirmation that you are aware of the ongoing judicial proceedings and your understanding that the charges brought against the person or the legal matter they are currently facing;
Your own opinion about the person and the breakdown of your relationship with them;
Signature and the date of signing.
---
Related Tags and Topics:
Download Character Reference Letter for Court Template