Sample Character Reference Letter for Court (Child Custody)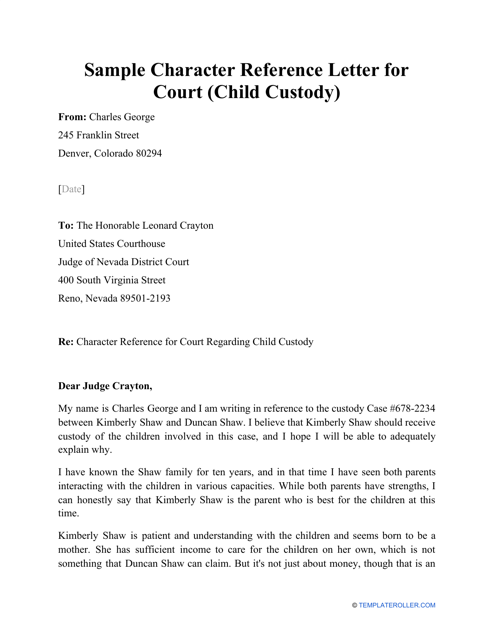 Fill PDF Online
Fill out online for free
without registration or credit card
A Character Reference Letter for Court Child Custody is a document that can be used to provide a description of a parent's personality for the judge. The purpose of the letter is to depict the relationship between a parent and their child (or children) for a case in the court of law.
Generally, This kind of letter is required in a divorce case when one of the parents makes a custody claim, or in a separate child custody case. A Sample Character Reference Letter for Court Child Custody is available for download below.
This reference letter can be prepared by a family member or a close friend - someone trustworthy, who knows the family well and can describe the relationship dynamic between the parent and their child (children). The main goal of the reference is to convince the judge that the parent indicated in the Character Reference Letter for Court Child Custody must be in their child's life for their best interest.
How to Write a Character Reference Letter for Court Child Custody?
The person who is filling out the document is referred to as the Sender. After they have completed the letter they are supposed to send it to the judge who is overseeing the case. A Character Reference Letter for Court Child Custody template can consist of several parts, namely:
The Sender. In the first part of the document, the sender is required to provide their full name and postal address.
The Addressee. Here, they must designate the name of the judge who is supposed to receive the reference letter and the address of the court where they are required to send this document.
The Subject of the Letter. The sender can indicate the subject of the letter, stating it as "Character Reference" or "Reference for Child Custody Case."
Information About the Sender. In this section of the letter, they must introduce themselves and designate the reasons for writing the reference. The sender must state their full name, the name of the parent who is receiving the reference, and the number of the custody case.
The Relationship Between the Sender and the Parent. Senders can use this part of the reference letter to tell the judge how they have met the parent they are describing, how long they have known each other, and how well they know them.
Information About the Parent. This part of the document can be used to describe the parent. The sender can provide information about the parent's personality, job, their relationship with the child, and the people around them.
Signature. At the end of the letter, the sender must put their signature and name.
---
Still looking for a particular template? Take a look at the related templates and samples below:
Download Sample Character Reference Letter for Court (Child Custody)