Character Reference Letter (From a Friend)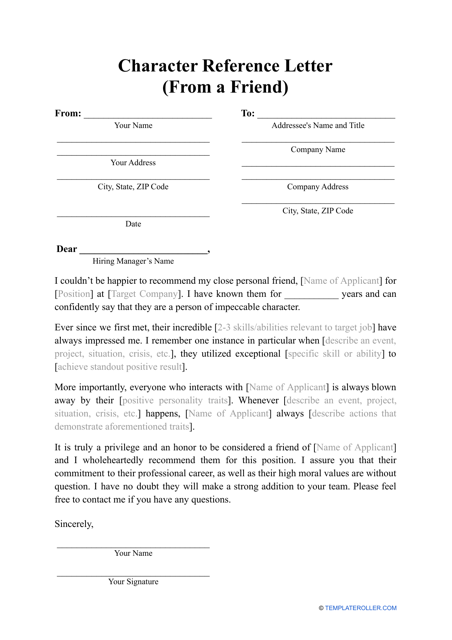 Fill PDF Online
Fill out online for free
without registration or credit card
A Character Reference Letter From a Friend is a document that individuals can use when they are required to provide a letter that will describe their personality. The purpose of the document is to give a positive endorsement to the individual's character, and it is supposed to be prepared by a reliable source - the individual's friend.
Alternate Names:
Character Reference Letter for a Friend;
Reference Letter for a Friend;
Character Letter for a Friend.
Generally, this type of letter is supposed to be prepared by somebody who knows the individual for a decent period of time and is able to give them a positive reference. If you were asked to give somebody a reference and you feel like you cannot provide them with a letter that will describe their best qualities then it is better to politely decline. Giving a bad reference to an individual can not only decrease their chances to achieve what they were aiming for but also ruin your relationship with them. Nevertheless, if you want to prepare a letter to help your friend you can check out our Reference Letter for a Friend template that can be downloaded below.
How to Write a Personal Reference Letter for a Friend?
This type of letter can be prepared for various reasons. For example, a Sample Character Reference Letter for Court can be required if an individual is going through litigation and the judge requests them to present one. Also, you might be required to present a reference letter when you apply to a university or for a job position. Commonly, when somebody asks you to write this kind of letter they explain what they need it for and who will read it.
If you are writing a letter that will be later presented to the individual's prospective employer, then you can include the following information in your letter:
Information About the Addressee and the Sender. You can start with the essential part of any letter and state the name and the address of the person (or entity) who is supposed to receive the letter. Usually, your friend who asked you for this letter will provide you with this information. It should be followed by your name and your address, it is needed for identification purposes.
Introduction. Here, you can introduce yourself and provide the receiver of your letter with a few details about your relationship with the individual who has asked you for this letter. You can indicate how many years you have known each other, where have you meet, how often you interact with the individual, and more. Additionally, you should mention that you are happy you got the chance to recommend your friend for a position they are applying for.
Character Details. This is the main part of your letter and here you are supposed to describe the best features of the individual's character, as well as their skills and abilities. You can divide this part into several sections (about two or three), each one of them can consist of two components: firstly, you indicate a positive, useful, or significant feature of character (ability, skill), and secondly, you give an example that illustrates it.
Conclusion. You can finish your Letter of Reference for a Friend by indicating that your friend will be a great fit for the company and that you are happy to answer any questions the recipient of the letter might have.
If you are not sure what you are supposed to do with the letter after you have finished it you can check with the individual who has asked you to write it. Commonly, when it is finished you are asked to put it in the envelope and either send it to the addressee or give it to your friend.
---
Haven't found the template you're looking for? Take a look at the related templates and samples below:
Download Character Reference Letter (From a Friend)