Landlord Reference Letter Template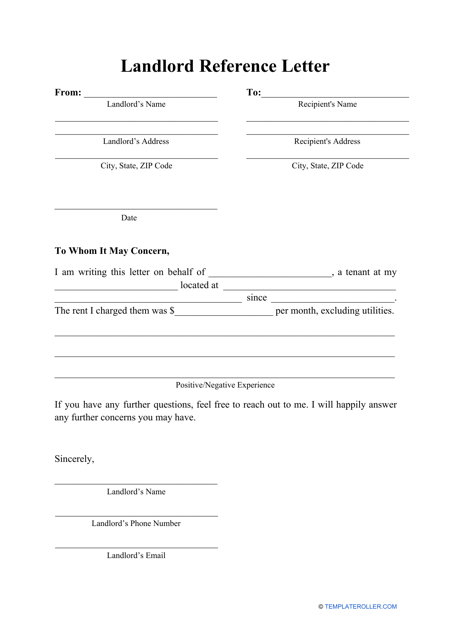 Fill PDF Online
Fill out online for free
without registration or credit card
What Is a Landlord Reference Letter?
A Landlord Reference Letter is a written document designed for a tenant who seeks a letter of confidence to give to a new landlord. These letters are requested by various individuals and institutions that want to know if the person is someone who can be relied upon, for example, when an individual seeks to enroll children in a new school, applies for a mortgage, or intends to move. A printable Landlord Reference Letter template provided below.
Alternate Names:
Tenant Reference Letter;
Landlord Recommendation Letter for a Tenant.
There are several benefits to Reference Letters that make them crucial to any person who needs to secure a desired rental space. Tenants get their positive characteristics highlighted as a tenant and as an employee by the people who have known them for months and years - the employer can specifically describe the tenant in the work environment, mentioning, for example, the discipline and the industriousness demonstrated during employment. Obviously, it is recommended to obtain a Reference Letter from the person with whom the individual is on good terms so that the letter becomes a plus point to the application as a tenant. Be specific, but not emotional, make the letter personalized and truthful. Also, it is a good idea to support any claim you make with proper evidence or documentation.
How to Write a Landlord Reference Letter?
These letters can belong to one of two categories: a tenant reference letter from the employer and a tenant reference letter from the landlord. Both are written to the future landlord; however, the first one is needed to confirm that a potential tenant has a stable job and a source of income, is responsible and reputable, and the second one verifies that the tenant in question was a reliable, trustworthy, and disciplined party to the lease or rental agreement. Drafting a letter, add contact information to the letter in case the future landlord wishes to talk to you and ask additional questions.
A tenant recommendation letter from the employer is similar to an employment verification letter - it should include the tenant's job title, type of employment, and hours he works per week. The employer has to provide an accurate description of the employee's duties and outline the tenant's positive qualities, for example, the ability to follow rules and trustworthiness.
A tenant recommendation letter from the landlord needs to showcase the tenant's reliability as a renter and explain whether the tenant followed the basic renting guidelines and if the tenant can maintain the residential property. This document can also mention the tenant's relationship with neighbors and the tenant's ability to adhere to the terms and conditions of the rental agreement.
---
Check out these related letter tags and topics:
Download Landlord Reference Letter Template