Sample Letter of Recommendation for Nursing School From Employer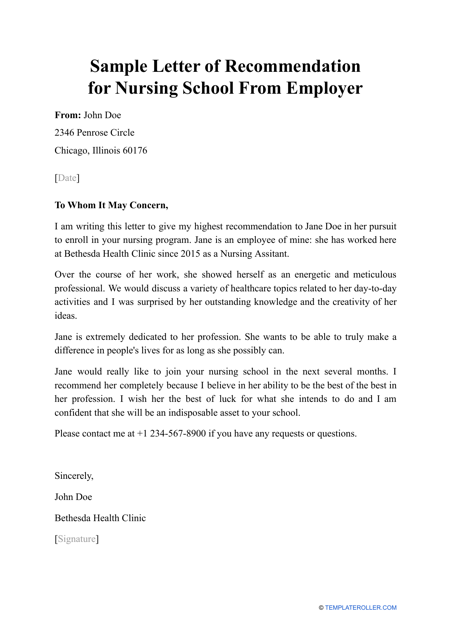 Fill PDF Online
Fill out online for free
without registration or credit card
What Is a Letter of Recommendation for Nursing School?
A Letter of Recommendation for Nursing School from an employer is a typed or handwritten document composed by the employer for their employee who wishes to enroll in a nursing school. The information in this letter must highlight the positive characteristics of the employee that will help them in their education and verify their experience for the admissions committee.
Alternate Name:
Recommendation Letter for Nursing School.
You can download a sample Recommendation Letter for nursing school through the link below. Nursing schools are always on the lookout for the perfect candidates: a convincing Recommendation Letter from the employer - an individual who has seen the applicant up close and in stressful situations - is the best possible way to show them this is the person who deserves a chance.
Related:
Letter of Recommendation for Nursing School (Generic).
How to Write a Letter of Recommendation for Nursing School?
If a current or former employee - a person you have known for years and worked closely with - approaches you for a Letter of Recommendation for a nursing school, think before accepting this request. Only agree to provide a recommendation to an individual you know well and to whom you can give a positive recommendation supported by particular stories and examples.
If you do agree to draft a nursing school Letter of Recommendation, follow these steps to compose a proper document:
Ask the individual who asked you for a recommendation about what they want to see in the letter. For instance, they might want you to describe particular episodes and achievements you would not necessarily mention in the letter without their request.
Colleges receive thousands of applications each year: make sure that your letter is not longer than two or three pages, otherwise, they may ignore the application entirely.
Introduce yourself. Explain the circumstances under which you have met the applicant. Describe what made you hire them in the first place and how long they have worked for you.
Indicate the candidate's accomplishments in the workplace and the effect their work had on your organization. List professional characteristics that let the applicant succeed as your employee and will continue to help them in the nursing school. If you are already involved in the medical field, demonstrate the candidate's dedication to the medical profession, and if they ever told you exactly why they chose this field of work, you can mention it as well.
Record the applicant's personal traits they have exhibited during employment and their outstanding skills - for example, linguistic proficiency or experience in various scientific fields you have witnessed firsthand. However, you need to stay concise and impartial - do not write more about the individual's personality traits than you write about their professionalism and intelligence.
Write down why you think the applicant will succeed in a nursing school. If you know about specific studies or programs offered by the nursing school, you can provide a recommendation for these particular projects if the candidate asked you for it and you think they will be up to it.
Sign the letter and add your contact details. Thank the letter recipient for their consideration and invite them to get in touch with you if they need more information.
Use the physical address or email address given to you by the candidate to send the letter unless they asked you to let them see it first. Do not take more than a couple of weeks to write and mail the letter - the applicant's college career may depend on it.
---
Not what you were looking for? Check out these related letter templates:
Download Sample Letter of Recommendation for Nursing School From Employer