Residency Letter of Intent Template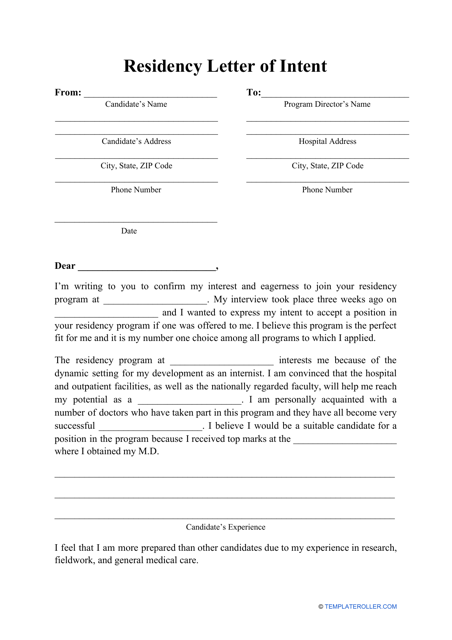 Fill PDF Online
Fill out online for free
without registration or credit card
What Is a Residency Letter of Intent?
A Residency Letter of Intent is a document that must be completed by an individual who wishes to participate in a residency program. This letter has to be submitted to the hospital organizing it as the residency program is part of receiving their medical education. It trains individuals who have already received a medical degree to perform their duties in real situations in the hospital. After the program is completed, they have a right to receive a license to practice their specialty in medicine.
A Letter of Intent for Residency template can be found through the link below.
A Letter of Intent for a residency program is a valuable document because it is used when a hospital selects suitable candidates. The purpose of this letter is to express the candidate's interest in participation in a program. This individual should provide reasons why this program is attractive for them and indicate their achievements during clinical rotations. The letter can be used by candidates working in different specialties but if you apply for a pharmacy residency program, complete a specially designed Pharmacy Residency Letter of Intent.
How to Write a Letter of Intent for Residency?
A Residency Letter of Intent Template must be filled in as follows:
The applicant must indicate their personal information, including their name, address, and phone number. Enter the date of completion. Specify the program director name, program name, and contact details of the hospital where this residency program takes place.
The applicant must confirm their interest in joining this residency program. If you have already been interviewed, specify it in this letter, and enter the interview date. Indicate the medical specialists of this hospital with whom you have already contacted and discussed the program details. Express your intent to accept a position in the program because it perfectly suits your interests. You may indicate that you are impressed with the program and the opportunities that it offers to residents. For example, you may mention that you are interested in earning a teaching certificate that this institution issues.
Provide the reasons why this program interests you and why you would like to do a residency at this hospital. Explain why you are a suitable candidate for a position in the program. You may mention the marks you got at your university. Provide information about research projects you have participated in, and specify clinical rotations that you have already done. Indicate that they correspond to your interests and have prepared you well for a residency. The applicant should also include clinical rotations that they are doing now and planning to do, and specify the area of these rotations. Indicate your professional skills, clinical interests, learning style, and level of professional involvement. For example, you may indicate that you are a hardworking person and have the motivation necessary to succeed in this program.
Thank the program director for consideration. Mention that if they require any additional information, they should contact you. Provide the preferred communication way.
The applicant must sign the letter.
You may attach a copy of your application and Letters of Recommendation to the Letter of Intent for Residency.
---
Check out these related letter templates:
Download Residency Letter of Intent Template