Letter of Intent to Lease Residential Property Template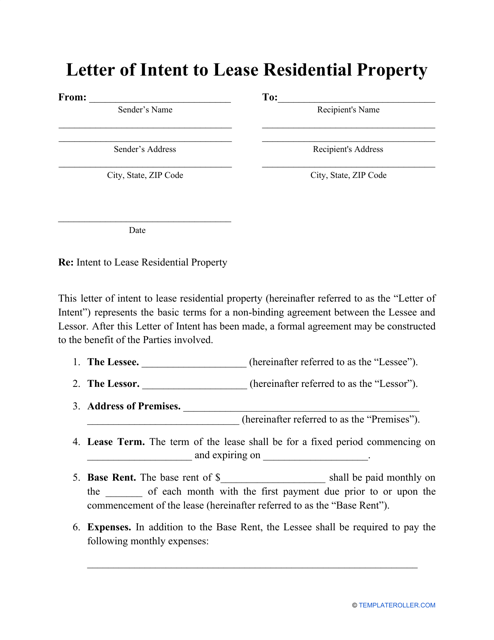 Fill PDF Online
Fill out online for free
without registration or credit card
What Is a Letter of Intent to Lease Residential Property?
A Letter of Intent to Lease Residential Property is a written statement completed by the owner or manager of any kind of residential premises to tell the future tenant about the terms and conditions of the contract to be signed. Usually containing a date of expiration, this document is prepared after the landlord and tenant negotiated the prospective lease and are willing to enter into an agreement. The landlord makes their last offer to sign a lease, and the tenant is free to accept the provisions of the upcoming contract.
You can find a Letter of Intent to Lease Residential Property template through the link below.
How to Write a Letter of Intent to Lease Residential Property?
Follow these steps to create a Letter of Intent to Lease a house, apartment, or room for residential purposes:
Write down the names of the two parties that will sign the lease - the lessor (landlord or property manager) and the lessee (tenant).
Describe the real estate to be leased - you must include a legal description to avoid confusion since this document might be used later as evidence in case of a disagreement or dispute.
Indicate the use of the property. Since commercial lease and residential lease aim at different purposes, you need to prohibit the use of your apartment or house as an office or store.
Outline the amount of the rent the tenant will have to pay and shortly describe the payment schedule;
Provide the expiration date of your lease offer - for instance, you may inform the other party that they have two weeks to contact you and sign the contract otherwise your Letter of Intent no longer counts as an invitation to sign the agreement.
Add other clauses you consider important - a security deposit provision, permission or prohibition to sublet, tenant's right to offer renewal once the lease expires.
Show your intention to move forward with the lease by signing the letter. Leave space at the bottom of the page if you prefer the tenant to demonstrate their willingness to enter the lease via the signature under your offer.
---
Related Letter Templates:
Download Letter of Intent to Lease Residential Property Template