Letter of Intent for College Template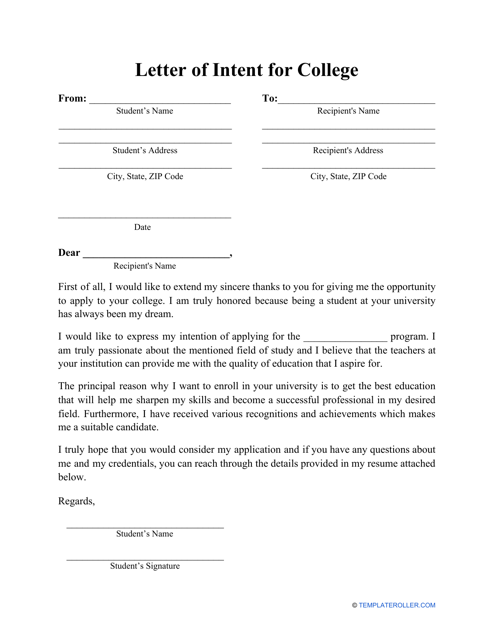 Fill PDF Online
Fill out online for free
without registration or credit card
What Is a Letter of Intent for College?
A Letter of Intent for College is a typed or handwritten statement that describes the individual's qualifications, skills, accomplishments, and aspirations within a specific area of study and adds more weight to their application to the educational institution of their choice.
You can download a Letter of Intent for College template through the link below.
Being one of the main documents that determine the future of the applicant, a proper College Letter of Intent must point out the reasons why the person must be chosen as a prospective student and describe in detail what they have managed to achieve already. If the applicant can accurately explain why they chose this college and not their competitors and record their skills and qualifications that make them stand out from other candidates with similar stories and goals, it will not only strengthen their application but will also be a crucial factor when deciding their future academic and professional fate.
How to Write a Letter of Intent for College?
Follow these steps to compose a Letter of Intent for college admission:
Learn more about the college or a particular program you are applying for. Once you are sure this educational course is the right fit for your expertise and objectives, you can draft a Letter of Intent.
Find out the type and title of the document you need to prepare. Although a Letter of Intent is an umbrella term that covers both personal essays and statements of qualifications, you might be asked to name your document differently.
Write the introduction. A sample Letter of Intent for college admission should always include the salutation, name, and title of the recipient of the letter (the college, the department, or a certain individual that handles the admission procedures), and the name of the applicant.
Start the main part of the document by indicating your desire to enroll in college.
Describe your qualifications and academic achievements so far - list schools and other institutions you have attended, mention your good grades, and enter the names of certificates that confirm your knowledge of certain disciplines if you plan to attach them to your application.
Outline the skills and qualifications you possess and tell the recipient of the letter how do you want to apply them during your studies. Remain genuine and do not undersell yourself - you need to be sure of your knowledge and experience.
Add a personal touch to the letter - you can share a personal story that motivated you to choose a particular profession or sparked your interest in the field of knowledge you are currently devoted to.
Include a paragraph to share your future goals in the chosen field of study. Highlight your dedication to the college you want to attend and focus on your academic and professional commitments.
Thank the addressee for their attention and sign the letter. You should add your contact details to stay in touch with the college and its representatives.
---
Check out these related letter templates:
Download Letter of Intent for College Template