Sample Letter of Intent to Homeschool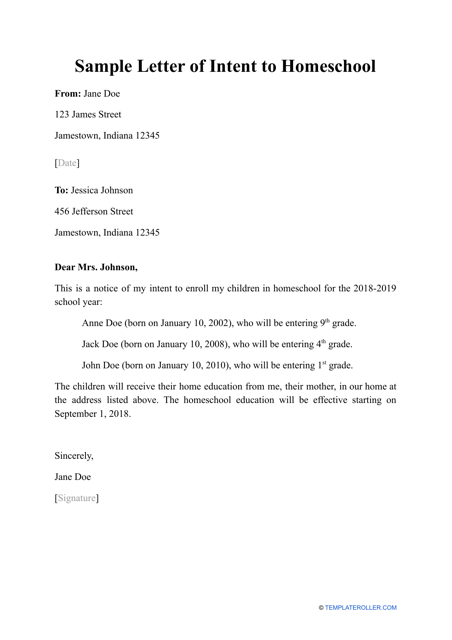 Fill PDF Online
Fill out online for free
without registration or credit card
What Is a Letter of Intent to Homeschool?
A Letter of Intent to Homeschool is a written document drafted by the parents or guardians of the child in order to verify their plans to homeschool the child in question. Whether you have doubts about the traditional school system or you think you can provide your children with better education from the comfort of your own home, whether you have decided that your children should be homeschooled from the beginning or opted for the switch while they attend elementary or middle school, this statement will allow you to express your wishes regarding the education of the children you are responsible for.
Alternate Name:
Letter of Intent for Homeschooling.
In many states, this letter will be the first of many documents you have to fill out before homeschooling is approved by the relevant authority. Contact your local department of education to find out whether you need to write a letter right away or you can start homeschooling without prior approval. You may download a Sample Letter of Intent to Homeschool through the link below.
How to Write a Letter of Intent to Homeschool?
Here is how to compose a Homeschool Letter of Intent:
List the names, birthdates, and addresses of all your children you are planning to teach at home. Note that if their residential address and the address of homeschooling. It is possible to homeschool one or two children while others continue to attend school.
Write down the grades of the children and provide a curriculum you are going to use for each of them.
Confirm your intention to adhere to homeschooling and its rules and regulations.
If you have already contacted the teachers willing to educate the children, state their name and teaching qualifications.
Ask the recipient of the letter which documents are necessary to finalize the decision to homeschool your children. Depending on the state you are residing in, there may be additional requirements - for instance, your local school district superintendent can appoint a supervisor who will make sure all children have access to proper education and comply with the obligatory policy of attendance.
Add your contact details - the letter reader will need to contact you to discuss further arrangements. It is better to indicate your telephone number to ensure a quick response.
Sign and date the letter. Make two copies - send the original to a local school district superintendent responsible for overseeing the homeschooling process. Alternatively, you can submit the letter to the department of education of your state directly and ask them about issues that may bother you regarding the transition to homeschooling. It is possible that you will have to draft a letter of intent each academic year before the children are supposed to attend school - do not delay your decision and file the letter as soon as you are sure about your choice.
---
Not what you were looking for? Check out these related topics:
Download Sample Letter of Intent to Homeschool