Pharmacy Residency Letter of Intent Template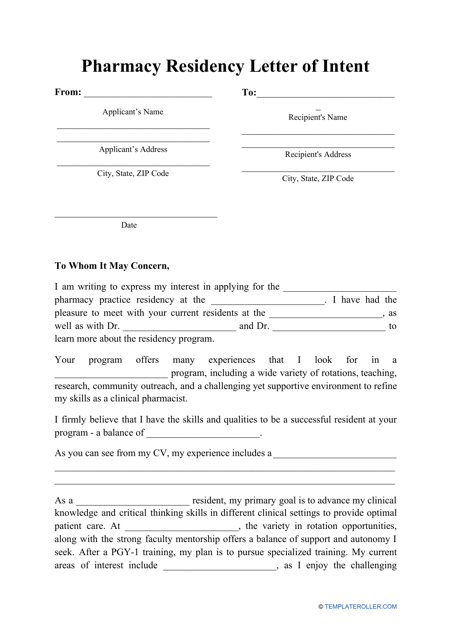 Fill PDF Online
Fill out online for free
without registration or credit card
What Is a Pharmacy Residency Letter of Intent?
A Pharmacy Residency Letter of Intent is a statement that describes the accomplishments of the individual who submits an application to a medical organization with the goal of starting a career in clinical pharmacy. You can find a Pharmacy Residency Letter of Intent template through the link below.
When you create this document, you list your academic achievements, outline the work experience you have had already, and show your wish to train under the supervision of a professional pharmacist who will help you to gain new knowledge and make the first steps as a future pharmacist yourself. Along with the application, a resume if you have professional experience, and recommendations from people who studied and worked with you, it will be enough to achieve your target - a residency at a hospital or clinic of your choice.
How to Write a Letter of Intent for Pharmacy Residency?
Here is how you should compose a Letter of Intent for Pharmacy Residency:
Before you write to an individual who oversees admission to the residency in a particular institution, learn more about their programs, and comply with requirements they demand. It is possible a hospital will ask you to name a Letter of Intent differently, use a specific Pharmacy Residency Letter of Intent format, or address your documentation to a certain employee that determines the perfect candidates for a residency.
Salute the recipient of the letter and introduce yourself.
Indicate the purpose of writing right away. Explain what interests you about the residency program, how you have discovered it, and who and what motivated you to pursue this profession in the first place.
Describe your achievements so far. You can refer to your academic successes and good grades as well as share personal stories that show you are a good fit for the residency. Write down qualities you possess that will help the reader to know you better - pick words that actually describe you from your perspective and the perspective of your peers, teachers, and colleagues.
Outline your potential contributions to the residency and specify your short- and long-term goals.
Make your letter genuine and avoid generic phrases. Even if you choose to send this document to multiple hospitals and programs, it is recommended to draft individual letters expressing different aspirations and goals - after all, each program and medical institution offers different possibilities, so you cannot just copy and paste your letter several times.
Thank the reviewer for their time, sign the document, and add your contact details. Offer the recipient of the letter to stay in touch if they need more information or documentation, including recommendations.
---
Check out these related letter templates:
Download Pharmacy Residency Letter of Intent Template