Letter of Intent to Homeschool Template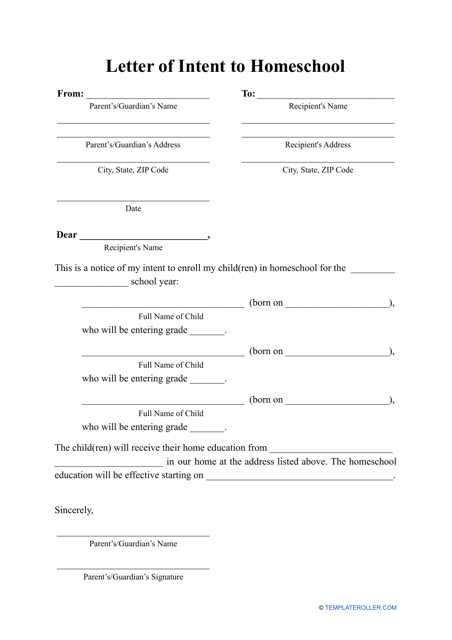 Fill PDF Online
Fill out online for free
without registration or credit card
What Is a Letter of Intent to Homeschool?
A Letter of Intent to Homeschool is a typed or handwritten document prepared by the parent or guardian to notify the school district and, if necessary, the educational institution about their decision to homeschool the child. Download a printable Letter of Intent to Homeschool template through the link below.
Alternate Name:
Homeschool Letter of Intent.
Whether you consider yourself to be the best teacher for your child or you are not happy with traditional teaching methods, a Homeschool Letter of Intent must be composed and sent several weeks or even months before the academic year starts to make sure you comply with the local laws. If you homeschool your kids, the local education authority may appoint a supervisor who will verify your children receive proper education in accordance with all the regulations.
How to Write a Letter of Intent to Homeschool?
Follow these steps when writing a Letter of Intent to Homeschool:
Write down the child's name, date of birth, and physical address. If the address of homeschool is different, write it down.
Indicate the grade of the child and describe the curriculum to be used.
State the intent to homeschool. Name the teachers who will educate the child and specify their teaching qualifications.
Since each state has its own homeschooling laws, it is necessary to know what to do to provide the child with proper education. Ask which documents you need to prepare to make homeschooling official. There may also be other requirements that parents and guardians have to comply with in order for the child to be educated outside of a traditional institution. For example, the state may have supervisors who ensure all students receive a good education and adhere to the mandatory attendance policy.
Write down your name and contact information. Sign the document and keep a copy for your records.
Usually, you need to send this letter every year that you homeschool - doing it only during the first year is not enough. Some states will also require a detailed curriculum you are going to use or a signed affidavit. If you fail to submit the required documentation, your child may be considered truant from school and your local school district will contact you and ask to comply. If you mail the letter, do it via certified mail so you have proof in case of any questions or disagreements in the future.
When Do I Need to Submit a Letter of Intent to Homeschool?
Depending on the state you live in, a Homeschooling Letter of Intent must be submitted two to four weeks before your child is educated at home. However, in some states, you may send the letter after you have started homeschooling or on a specific date (for instance, August 15th). The general recommendation is to send the letter and start the process of formalizing the homeschooling as soon as possible, so contact your school district superintendent or state's Department of Education to find out if there are any specific requirements.
---
Not the form you need? Check out these related templates below:
Download Letter of Intent to Homeschool Template