Suspension Appeal Letter Template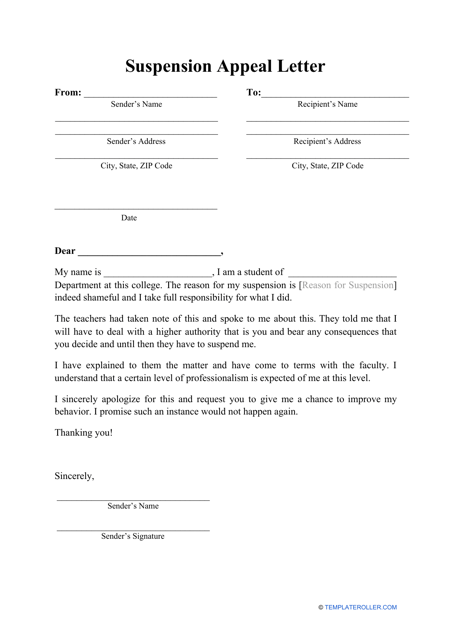 What Is a Suspension Appeal Letter?
An Academic Suspension Appeal Letter is a personal statement prepared by a student who was suspended from their educational institution to argue the decision and obtain reinstatement. A printable Suspension Appeal Letter template can be downloaded through the link below.
Whether you were suspended because your grades were not up to the standards of your university or college or you have committed a violation of discipline, there is always a chance the appeals committee will overturn their decision. As long as the Appeal Letter for Academic Suspension contains the acknowledgment of your errors or enough evidence that proves you were not at fault, you have an opportunity to come back to your studies soon.
How to Write a Suspension Appeal Letter?
Here is how you draft an Academic Suspension Appeal Letter:
Greet the recipient of the appeal, state your name, and record the purpose of the document - to appeal your suspension.
Confirm that you understand the reasoning behind your suspension whether you agree with it or not.
Describe the issue that led to the suspension. If you want to exonerate yourself, explain where the committee was wrong - maybe, they did not check the documentation that was already available, or you can provide them with new evidence that supports your point of view. For instance, you may present copies of medical records that prove your illness or a medical condition of your relative you had to take care of. Alternatively, you can accept their judgment - in this case, the letter must emphasize your future plans. Own up to your mistakes, tell the committee that it is important for you to continue your education, and promise to fix your past errors and avoid them in the future.
Write the letter from your own heart, use the words you would actually say to the committee in person. It is not recommended to resort to cliche and insincere phrases - describe the situation as it is and do not lie. Still, do not forget you are writing a formal document - remain professional and make an adequate apology.
Sign the letter and mail it to the appeals committee or present it in person. Depending on the situation you are in, you can attach documents that prove your innocence, certificates that show you have been attending courses to succeed in your studies, recommendations, and affidavits that attest to your personal qualities.
---
Related Letter Templates and Tags:
Download Suspension Appeal Letter Template