Letter of Intent to Lease Commercial Property Template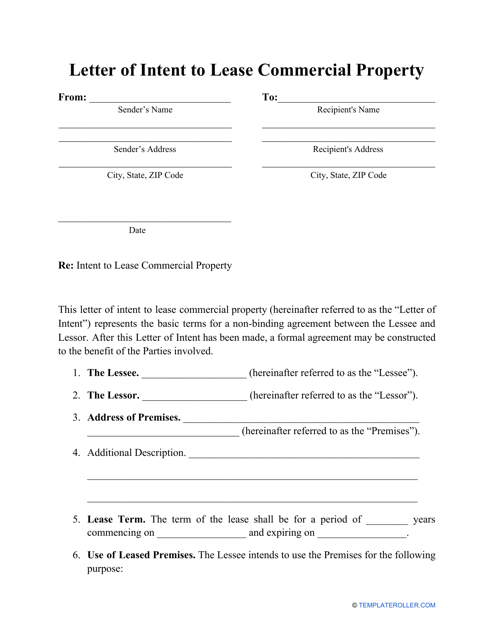 Fill PDF Online
Fill out online for free
without registration or credit card
What Is a Letter of Intent to Lease Commercial Property?
A Letter of Intent to Lease Commercial Property is a typed or handwritten statement prepared by the landlord or the property manager that informs the prospective tenant of the commercial premises about rental conditions and their expiration date. This document serves as a basis for the contract the parties eventually sign to outline the lease - it helps to advance the process of negotiations and lets the potential landlord and tenant know each other's expectations better. If the individual or company agrees to become the tenant and accepts the terms and conditions indicated in the Letter of Intent, they may sign it and give it to the letter writer to confirm their decision to enter into a lease.
Alternate Name:
Commercial Property Lease Letter of Intent.
You may find a Letter of Intent to Lease Commercial Property template through the link below. If you are looking to buy residential property for yourself and your family and the seller wants you to commit to a proposed transaction, prepare a Letter of Intent to Purchase Real Estate - this written declaration will allow you to acknowledge the terms of the deal and begin the drafting of a legally binding purchase and sale agreement.
How to Write a Letter of Intent to Lease Commercial Property?
Follow these steps to compose a Commercial Property Lease Letter of Intent:
Identify the two parties of the proposed lease agreement - the lessee and the lessor.
State the address of the commercial property you are willing to lease.
Indicate the term of the lease.
Specify the use of the premises - if you have discussed the deal with the lessor and know the details, you may write down the name of the office or store that will be situated at your property; alternatively, you can just say that the building or land will be used for a commercial purpose.
Enter the amount of rent and the schedule of payments - typically, the rent is paid on the 1st of every month. If you want to collect a security deposit, indicate its amount as well.
Add a clause that permits or prohibits subletting and mention the lessee's right to renew the lease with prior notice.
Confirm your intention to lease the property, record the expiration date of the proposal, sign and date the document.
---
Check out these related letter templates:
Download Letter of Intent to Lease Commercial Property Template