Adoption Reference Letter Template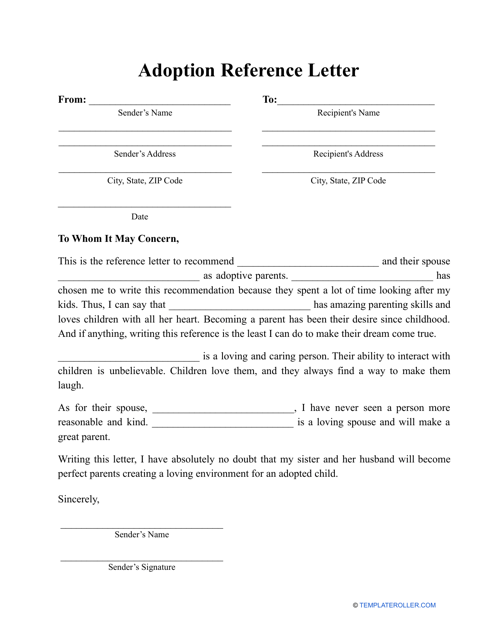 Fill PDF Online
Fill out online for free
without registration or credit card
An Adoption Reference Letter is a formal note composed by a person who knows an individual in the process of adopting a child and can testify to their character and endorse them as a good parent. When future adoptive parents are going through a home study, their personal life, financial situation, and character are under scrutiny.
To confirm the prospective adopters can be trusted with the child, it is necessary to provide several references written by family friends, neighbors, colleagues that are ready to vouch for the adopters' personality and their preparedness to have children. You can download an Adoption Reference Letter template through the link below.
How to Write an Adoption Reference Letter?
Here is how you should draft a Letter of Reference for Adoption:
Include the name of the recipient - the adoption agency - and your own name. Add your contact details - if the letter reader has any questions or anything in your message confuses them, they will reach out to you to learn more about the potential adopter.
Explain the purpose for preparing this letter - your close friend, relative, colleague, or neighbor has asked you for a recommendation because they are planning to adopt a child. Indicate how long you have known the individual in question and why, in your opinion, they chose you to offer a reference. The longer you have been in contact, the more convincing the reference will be.
Confirm the person in question is the perfect candidate for adopting a child. Once asked for a reference, you can inquire why the adoptive parent chose to adopt and list the reasons they shared with you - for instance, they have decided it would be better to help a child who is already looking for a loving family.
Whether you have been friends with the future adopter or you worked together, highlight the positive traits that you have witnessed in person. You may mention generosity, compassion, integrity and illustrate it with examples of them helping you out or improving your local community. Even if you have never been together in an informal setting, you can focus on the characteristics they have demonstrated at work - for example, good time management, adaptability, communication, willingness to learn, ability to perform in a stressful situation.
If you have seen the individual interacting with children or working with them, describe this in your Reference Letter for Adoption. It is possible they offered you to take care of your own children as your friends and relatives - show the positive impact this experience had on your family, especially the child.
No matter what Adoption Reference Letter format you choose, do not forget to assume a professional and polite tone. Make sure the document contains no spelling mistakes or factual errors before you send it to the adoption agency or give it to the person who requested it. You can type the letter but consider signing it by hand to add a personal touch.
---
Still looking for a particular template? Take a look at the related templates and samples below:
Download Adoption Reference Letter Template