Credit Report Template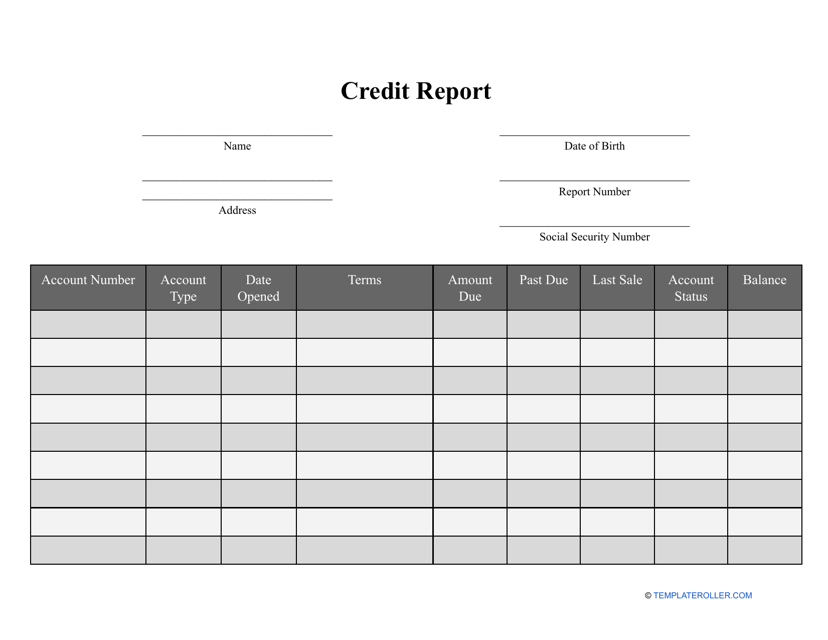 Fill PDF Online
Fill out online for free
without registration or credit card
What Is a Credit Report?
A Credit Report is a comprehensive summary of a person's credit history prepared by a credit reporting agency. It outlines the individual's financial background and helps potential lenders and credit card companies to see how you have managed to repay debt in the past. Prospective creditors and financial institutions you want to work with can assess this document to establish your creditworthiness and learn about your payment history before signing any contracts or allowing you to access their funds.
Alternate Name:
This document can be useful not only for individuals but also for entrepreneurs - if you are a business owner and you want to sign mutually beneficial agreements with other entities, you can request a Business Credit Report to let them see your good credit score and be sure it is safe to work with you. Note that the odds of striking a deal with a business partner will be even higher if you ask a company that has worked with you for a recommendation using a Credit Reference Request Form.
You may download a Credit Report template via the link below.
How to Read a Credit Report?
Follow these steps when analyzing a Credit Report you receive from a credit reporting agency:
Check your personal details - your current name, names you have used in the past, phone numbers, addresses, date of birth, Social Security number, and information about your previous and current employment. Pay attention to your mailing address - it is a possibility someone uses it to open a bank account in your name.
Verify the specifics of your accounts are correct. Every account will be defined by the name of the creditor, account number, date it was opened, its status and type, and the amount of the loan or credit. The payment history must not show any mistakes and closed accounts must be reported accurately.
Scan the report for negative items - collections, debts, bankruptcies. If any derogatory marks should not be there, you can challenge the document.
Examine the list of inquiries - if you have signed a Credit Report Authorization Form to let a bank learn about your credit history, it will be recorded in the report.
How to Get a Free Credit Report?
Every year you may receive a free Credit Report from any of the top credit reporting agencies - Equifax, Experian, or TransUnion. Since the credit information differs from agency to agency, it is recommended to request all three scores from these credit bureaus - if your credit application is denied because one or two of the reports contains a bad credit score, you may try to negotiate with the prospective creditor and still get the funds you need asking them to base their decision on a more favorable credit score you have received from another credit bureau.
When you check your annual Credit Report, you will find out all the available information about your credit accounts to be able to preserve your credit or improve it if necessary before securing a loan or submitting a Credit Application Form. Carefully scan all the details in the report - common mistakes include an error in the name or address, a miscalculation in the account balance, or the addition of accounts that do not belong to you.
How to Dispute a Credit Report?
If you have noticed a mistake in the Credit Report, do not worry - you have a right to contest the information that should not be there. Here are the measures you can take to obtain a correct and complete copy of the Credit Report Form:
Identify the error - maybe, you have spotted an identity theft issue or the account you have already paid off still shows a debt. If you suspect identity theft, you should also file a police report to safeguard your money and privacy.
Reach out to the organization that issued the report - it can be a financial institution, utility company, or a credit reporting bureau. If the problem is not resolved on the same day, you may draft a Credit Report Dispute Letter.
To write an effective message, you need to state what information you believe to be inaccurate and explain why do you think that. You may refer to other documents and records that show you have dealt with your debt problems as long as you enclose them with the letter. Do not forget to mention the steps you already took to rectify the situation.
Attach a copy of your credit report after you circle or highlight the items you deem incorrect. Send the document to the credit reporting bureau via certified mail to obtain a return receipt. Wait for 30-45 days for a response - if your suspicions were correct, you will get an error-free Credit Report and the credit bureau will make amends in their records.
How Long Do Inquiries Stay on Your Credit Report?
If a financial institution has requested Credit Report details from the credit reporting agency to know whether it would be the right decision to issue a credit card in your name or lend you money for real estate, it constitutes a credit inquiry. The impact of the inquiry will depend on your credit history - if you have had a bank account for a short period of time or there have been numerous inquiries already, your credit score will be lower.
In case you applied for credit, a credit bureau will help the bank with a hard inquiry - the potential creditor will be provided with a full credit report and the inquiry will remain on the report for two years. However, a soft inquiry - initiated by a company that sent you a credit card offer or an employer who wants to see your current accounts - will not influence the credit score and will not be included on any credit report in the future.
---
Still looking for a particular template? Take a look at the related templates below:
Download Credit Report Template