Credit Reference Form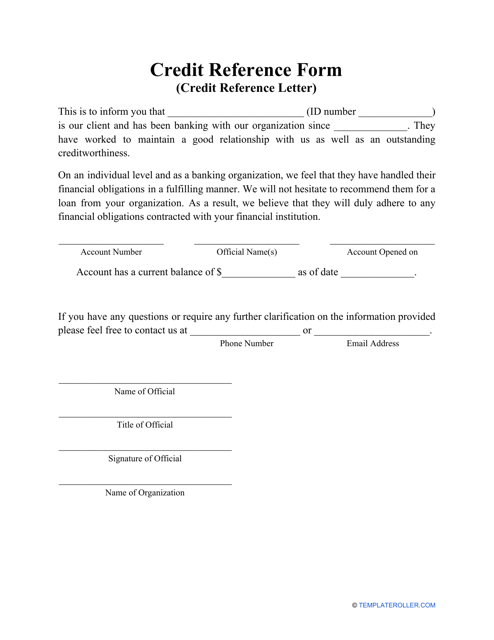 What Is a Credit Reference Form?
A Credit Reference Form is a typed or handwritten document that confirms the lending capacity of a prospective borrower. This statement can be composed by any financial institution (usually, a bank) that provided financial and banking services to the person or organization to prove the borrower has a good credit history.
Alternate Letter:
If you are looking for a printable Credit Reference Form template, you can download it below.
Additionally, a Business Credit Reference Form can be drafted by the service provider or any other type of business you have worked with before. Its purpose is to assure the third party - a potential lender - that the borrower is going to pay the money back on time and there are tangible reasons to trust them. A Credit Reference Check Form allows the lender to build confidence and trust in the borrower by learning more about the latter's finances.
How to Fill Out a Credit Reference Form?
Before providing credit to a new customer, any lender, whether it is a utility provider or supplier, must know your financial history. You have to prepare a Credit Report Authorization Form - this document will let the lender conduct a background check on you and learn information about your former business dealings - in particular, credit reports. Then, the lender will send a Credit Reference Request Form to your former bank or supplier you have already worked with. In some cases, a future borrower can also request a reference from any bank or business they have had a professional relationship with. Reach out to several companies and institutions at the same time - not everyone will accommodate the request for a reference. Once the request is received and accepted, it is necessary to verify the borrower's creditworthiness and payment history - here is how you compose a Credit Reference Letter:
If you have not received any templates or instructions from the company that requested a reference, you are allowed to create a letter at your own discretion. Otherwise, use the template the lender or the borrower sent you, especially if they need to obtain particular financial details.
Introduce yourself and add your contact information.
Specify how long have you known the borrower and outline the nature of your professional relationship.
Indicate their payment history - do they typically pay on time or are they behind on payments. If there are any late payments at the moment, mention them separately.
Briefly describe the borrower - how they have handled their financial liabilities and what kind of relationship their representatives have built with your business or institution on an individual level.
If you are prepared to recommend the borrower, do it explicitly by saying that you are sure they will comply with the financial obligations imposed by the lender.
Sign the form and offer the lender to contact you if they have further issues or questions.
---
Haven't found the template you're looking for? Take a look at the related documents below:
Download Credit Reference Form