Shareholder Loan Agreement Template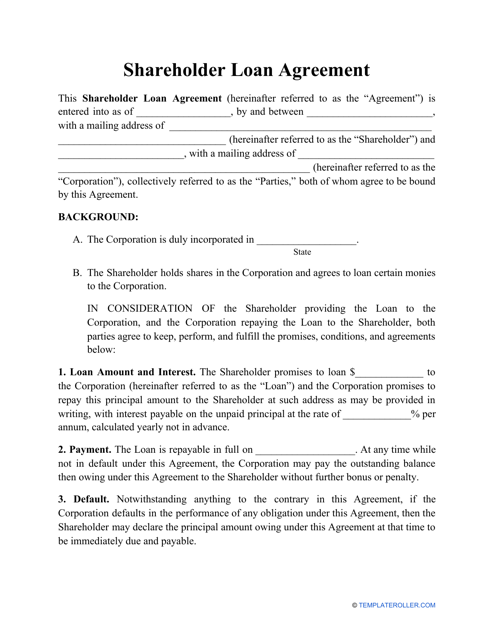 Fill PDF Online
Fill out online for free
without registration or credit card
What Is a Shareholder Loan Agreement?
When a corporation owes or borrows money from a shareholder, a Shareholder Loan Agreement is written up to explain the details of the loan and as evidence of the debt created between the corporation and shareholder. This can also be used to document wages owed to an employee by the corporation if the employee is a shareholder in the corporation.
Alternate Name:
Shareholder Loan Contract.
You can download a Shareholder Loan Agreement template through the link belowor make your own document with our online form builder.
How to Make a Shareholder Loan Agreement?
To create a Shareholder Loan Agreement you will want to include the following information:
The name of the corporation and the names of individuals that the Shareholder Loan Agreement will be between.
A statement agreeing that the shareholder is loaning funds to the corporation.
How repayment of the loan will be conducted, whether it will be paid back in full or partially, and a final date that the repayment is expected to be completed.
If any interest will be applied during the life of the loan and that any interest applied will be repaid before the final repayment date stated in the previous section.
The rate of interest applied to the loan and when interest will accrue (monthly or annually).
Interest will be recalculated on a monthly basis until the loan is fully repaid. This calculation can also include any additional funds the corporation is loaned by the shareholder.
An example calculation showing how accrued interest will be calculated, including a breakdown with the initial loan, interest rate, number of days between the start of the loan and the final repayment date, and the total interest amount listed.
Acknowledgment that the interest amount will be consistent each month (if the interest is accrued annually) during the repayment process.
A statement that the agreement will follow any local, state, or federal laws pertaining to an agreement for a shareholder loan.
Final signature and date section listing the shareholder and representatives on behalf of the corporation.
---
Haven't found the template you're looking for? Take a look at the related templates below:
Download Shareholder Loan Agreement Template