Medical Bill Tracker Template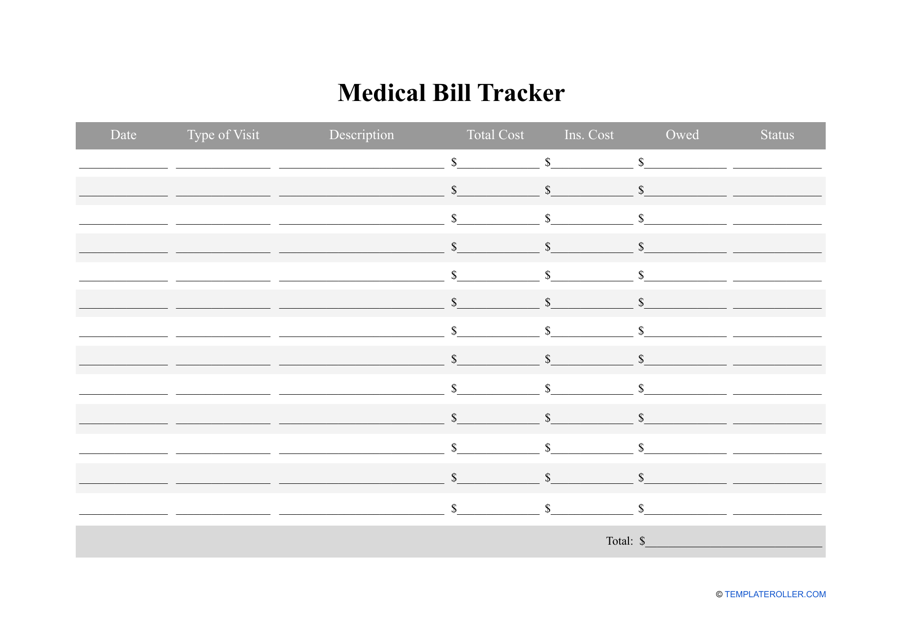 A Medical Bill Tracker is a written instrument used to keep an accurate record of all your medical costs and payments you have not dealt with whether you have a one-time medical emergency or a chronic illness.
You can find a Medical Bill Tracker template through the link below.
Not only the patient or their caretaker will be able to reduce the stress related to finance management but also, the person who creates and maintains these records will stay on top of all upcoming doctor's appointments and later submit the collected information with relevant documentation to claim a tax deduction for medical expenses.
How Do I Track My Medical Bills?
Here is how you can monitor your medical expenses:
Collect all the paper documentation you have on hand - your current insurance policy, invoices and bills from healthcare providers, checks and receipts for various healthcare expenses. Your insurance company should send you the payment details related to your treatment in the past and in the future - you will be able to see what medical services were covered by your policy and what sum of money you have to pay out of your own pocket. Do not forget to go through your e-mail and uncover all electronic medical bills as well.
Draft a table with the following columns: date of the appointment, name of the medical institution, name of the doctor who examined you, the medical issue that forced you to go for a check-up, the amount of money you paid or still have to pay, and the payment deadline. Transfer all the details from the documents into the table.
If you are using an electronic version of the Medical Bill Tracker, you may be able to embed formulas that will facilitate the calculation of total expenses for you. Plus, it may be easier to edit the electronic copy document and later carry the bill tracker with you on your phone wherever you go.
Add variable expenses such as travel, parking, meals, accommodation if you had to travel to a different city or a hospital far away from your residence and your attending physician.
Although you may only create a Medical Bill Payment Tracker, it can be a good idea to keep all your medical records in one place. Include the information related to every appointment - the date and location, the procedures performed and treatment plans discussed.
Indicate the names and doses of all medications you are taking. Note that you should enter the names of doctors who made the decision to prescribe these pills, drops, injections, or inhalers.
---
Haven't found the template you're looking for? Take a look at the related templates below:
Download Medical Bill Tracker Template