Nanny Contract Template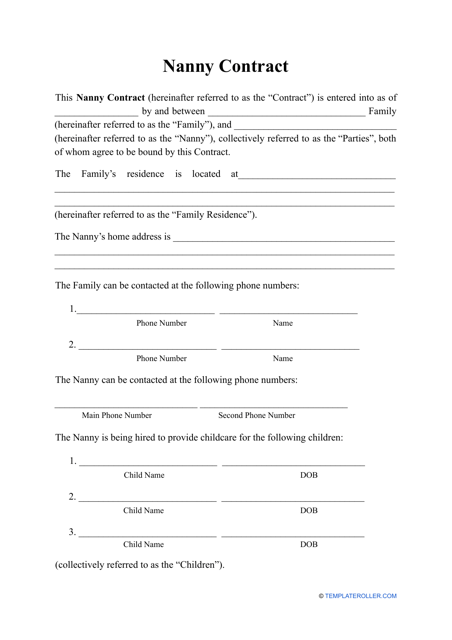 Why Is a Nanny Contract Important?
A Nanny Contract is a type of legal agreement between a hiring party and a nanny. A basic Nanny Contract should cover the nanny's work duties, working hours, bonuses for working overtime, compensation, time off, etc. Oftentimes, additional terms which the employer and nanny think are necessary can be included in the agreement.
You do not have to hire a professional lawyer to draft this document: simply download a Nanny Contract template through the link below or compose a more personalized agreement using our online form builder.
What Should a Self-Employed Nanny Ask for in a Contract?
It is in a caregiver's best interest to understand the number of children in their care and any specific requirements about the care which should be given to them.
What to Include in a Nanny Contract?
Still wondering why you should have a Nanny Contract? Imagine that your child has an appointment with a doctor and you're not able to take them. You will probably have to ask the nanny to do it and it could be during her off-hours. Therefore, there are at least two questions that you will need answered: what is the compensation for working during off-hours and what means of transportation should be employed to take the child to the doctor. Having an agreement with the nanny in place could save you much needed time if a situation such as this were to arise. You may also want to make a Child Care Contract in case there are some special needs that should be provided for your child.
Terms of Employment. Every self-employed Nanny Contract should start with financial information including the employee's salary, compensation for working overtime, workdays, working hours, sick leave requirements, and tax information.
Transportation. The caregiver should be informed whether they can use the employer's vehicles during work time. The employer may express particular requirements for the employee's driving credentials and the contract should specify car seat requirements.
House Rules. House rules are defined by the employer. They may clarify who is allowed in the home, pet rules, cleanliness requirements, parking places, and some other things the employer thinks are important regarding their home. When filling this out you may ask the people who live with you, including your children, what they might want to add.
Communication. You may want to express how often and how exactly you would like to talk to the nanny. You may ask them to use one of the childcare mobile apps or choose verbal communication through a voice call or video chat.
Nanny Duties. This is one of the most important parts of the agreement. It expresses the professional duties that the nanny should perform. This can include dietary guidelines, helping the children with their homework, taking children from school, and more. Apart from childcare, a nanny may be asked to do some housework, including keeping the house clean and cooking meals. This should be specified as an extra service in the agreement with special compensation for it.
Confidentiality. You may prohibit the nanny from posting any materials on social media relating to your children and their personal lives. You may also limit the spreading of information about the personal lives of your children and other members of your family.
Restrictions. The restrictions may include bad habits and vulgar language in the presence of your children and on the territory of your household. Other restrictions may be added.
When one of the contractual parties would like to end the contract, they should provide a Contract Termination Letter to the other party, some time in advance. It declares that either the employer or the employee plans to cancel the contract and may state a particular date when the contract is expected to end.
---
Not what you need? Check out these related documents:
Download Nanny Contract Template