Child Care Contract Template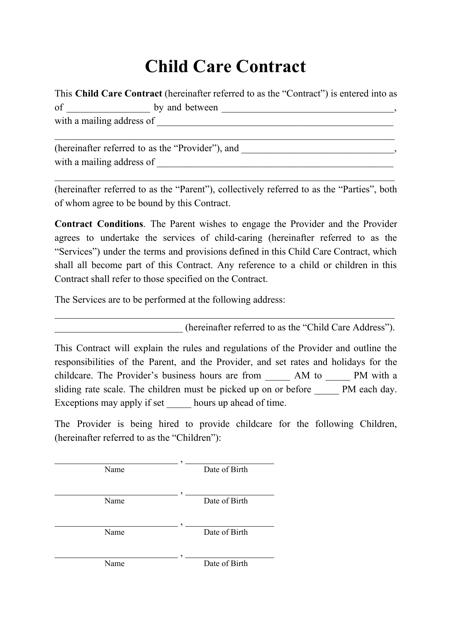 Fill PDF Online
Fill out online for free
without registration or credit card
What Is a Child Care Contract?
A Child Care Contract is a contract made between parents or guardians (usually referred to as a Client) and child care providers. The contract sets down the terms of child care which should be provided for the child or children of the hiring party. The primary purpose of the contract is to specify the details of a child care service that should be provided for a child. A basic agreement may cover expenses relating to daycare costs, the use of the client's property by the care provider, confidentiality, and more.
Alternate Name:
In case you need to make an agreement like this but do not know where to start, a Child Care Contract template can be downloaded through the link below or filled out with our online form builder.
What to Include in a Child Care Contract
Still wondering what to include in a Child Care Contract? We are going to give you some ideas on what to include. Similar to a Nanny Contract in many respects, a basic in-home Child Care Contract has to include the following sections:
Payment Details. This relates to the compensation that the care provider will receive for their work. It is usually stated as an hourly billing rate, workdays, days off, bonuses for overtime, late payment interest, and the payment schedule. It may also include deposit details in case there is a need for a deposit that should cover the caregiver's work and expenses for some time in the future.
Line of Duty. This specifies what care should be given to a child or children, including visits to doctors, attending after-school activities, picking up children from school. Also, it may declare that the care provided should correspond to reasonable caregiving standards.
Confidentiality. With this provision, you may oblige the caregiving party not to disclose any personal information relating to you, your children, and other members of your family, including publications of visual materials on social media.
Limitation of Liability. This provision will protect the caregiver from being exposed to any charges outside of their contractual duties and any infringement of state and federal law. It is normally filled out by the party that is being hired.
Expenses. The child care provider may ask the employer to include some expenses in the contract. These may include purchasing and transportation costs unless transportation is done using the hiring party's transport.
---
Related Forms and Templates:
Download Child Care Contract Template