Service Contract Template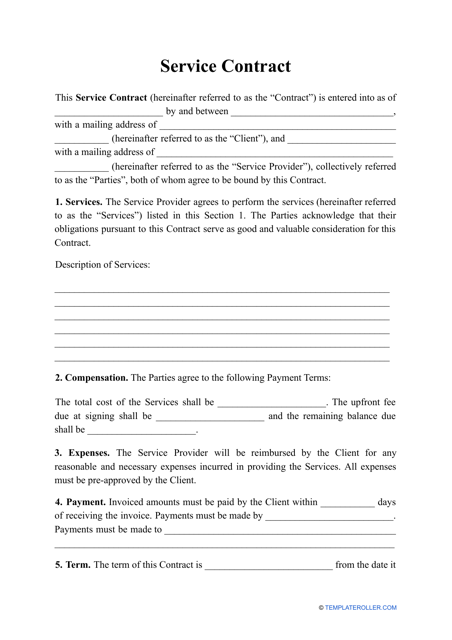 Fill PDF Online
Fill out online for free
without registration or credit card
What Is a Service Contract?
A Service Contract is an agreement signed by a contractor and a customer to establish the scope of services a customer expects to receive from the service provider. A properly drafted Contract for Service will define the boundaries of the service and compensation for the service provider or contractor. Both parties receive legal protection, save time and money, and reduce the risk of potential disputes.
A written Service Contract is particularly important because it is harder to prove the provision of services than the delivery of a product. Whether you need to obtain or provide marketing services, consulting services, management services, or advertising services, this is the agreement for you.
If you are looking for a Service Contract template, you may download a ready-made one below or use our online form builder to compose a more personalized document.
How to Write a Contract for Service?
Follow these steps to create a Contract for Service:
State the names and contact information of both parties - the client and service provider.
Describe the services to be provided. The description must be as accurate and full as possible to avoid any misunderstandings in the future. Moreover, a proper breakdown of services will give the customer a better idea of what to expect.
Record the main terms of the agreement - the time frame of the provision of services and the location where they must be performed.
Determine a payment schedule. Indicate the price for all the services, decide who will pay work-related costs (travel, materials, food, etc.), and discuss penalties for non-performance and late payments.
If you need to address confidentiality and protect sensitive information related to the provision of services, include a confidentiality clause.
Specify who will retain ownership rights for the materials and data produced during the agreement.
Sign and date the contract. Make copies for both parties. If you want to add an extra layer of protection to the document, you may obtain a notary seal.
How Does a Vehicle Service Contract Work?
A Vehicle Service Contract is an agreement between a vehicle owner and a service provider (dealer, manufacturer, or an independent third-party service contract provider) that covers the expenses of repairs to the vehicle described in the document. It serves as an extended warranty supplemental to the manufacturer's warranty and provides the vehicle user with an even better level of coverage.
If your car breaks and is in need of repair, you can always use a Vehicle Service Contract to pay for repairs, including parts and labor. This document will usually cover repairs within three years or 35,000-60,000 miles, whichever comes first. A typical Vehicle Service Contract is renewed each year, and you have to pay a fixed sum of money annually to the service provider.
How Does a Residential Service Contract Work?
A Residential Service Contract (or "Home Service Contract") is an agreement between a homeowner and a contractor that outlines repairs and replacements of various appliances and mechanical systems in the residential property. This additional insurance policy for your home usually lasts for one year and covers major home appliances such as water heaters, stoves, dishwashers, refrigerators, and systems - electrical, plumbing, heating, and security alarms.
A Service Contract for your home or apartment entails a deductible or a minimum payment - if you decide to purchase this kind of service, you will be safeguarded from unexpected costs of home repairs for a smaller price. It is possible to enter into a Home Service Contract when buying the house or apartment or at any time you wish if you contact an independent company that offers home warranties.
---
Not what you need? Check out these related templates:
Download Service Contract Template