Catering Contract Template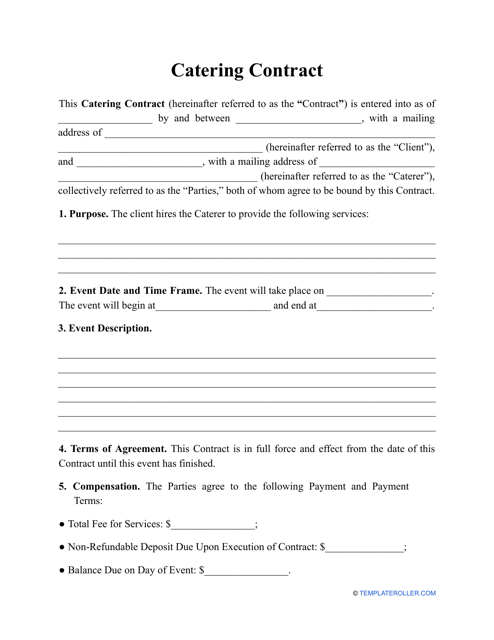 Fill PDF Online
Fill out online for free
without registration or credit card
What Is a Catering Contract?
A Catering Contract is a legal agreement between a caterer and a client that establishes the specifics of a catering service for a certain event. Whether you plan a wedding reception, fundraising event, or a holiday dinner, this document is useful for any event where food and beverages are to be provided for a number of people. Write your own personalized form using our online form builder or simply download a Catering Contract template below.
How to Write a Catering Contract?
Negotiating a Catering Agreement is more than a discussion of food and beverages, it is a legally binding document that outlines service expectations between caterers and clients. It will give both parties a clear understanding of timelines, obligations, and payment expectations. Prior to signing the deal, the client must provide the event details: its expected duration, number of guests expected, vendors involved, and a detailed cost breakdown of food and other services the caterer will provide.
A standard Catering Contract usually involves a down payment to cover food costs and initiate the transaction. The caterer may also wish to protect intellectual property present in the recipes, menus, ingredients, and methods by suggesting a copyright provision to the agreement.
Licenses Needed to Start a Catering Business
Aside from cooking skills and menu planning experience, the caterer needs to obtain several licenses and permits before opening for business:
Food Establishment License. You may obtain this permit to operate restaurants and catering businesses, after the Department of Health inspector checks your establishment to make sure it follows all food safety regulations.
Alcohol License. You will require a liquor license if you plan to serve alcohol at future events. To find out specific requirements for your state, contact your local alcohol and tobacco regulatory authority. In certain cases, you will have to undergo a background check and provide training for staff who will handle alcohol.
Zoning Permits. To provide catering services in certain areas of the city, you need to comply with zoning laws and requirements that might limit the commercial use of land preventing businesses from providing services in particular neighborhoods.
Health and Safety Permits. These vary from state to state, and you might require a fire permit, a safe work permit, or an air and water pollution control permit.
What Should Be Covered in a Catering Contract?
When drafting a Catering Contract for an event, include the following information in your document:
Names and addresses of the involved parties.
Event details. State the start and end time of the event, its location, estimated number of guests, and serving staff. If you sign a Wedding Catering Contract and you commit to two different venues for the ceremony and reception, describe each venue separately.
Menu details. You may also attach a menu as an additional document to your agreement. Discuss whether little changes to the menu are possible if certain ingredients are unavailable and whether alcoholic beverages will be served.
Venue coordination. The caterer will require access to the chosen venue several hours before the event and after for clean up.
Payment information. Generally, the client pays a certain sum of money for each person attending an event. Determine the method of payment and agree on a deposit.
Cancellation. Decide whether the caterer will be entitled to receive a percentage of the estimated total costs if the client needs to cancel the event.
Signatures of the parties that demonstrate their agreement to comply with all the terms and conditions.
---
Related Templates and Forms:
Download Catering Contract Template