Sales Contract Template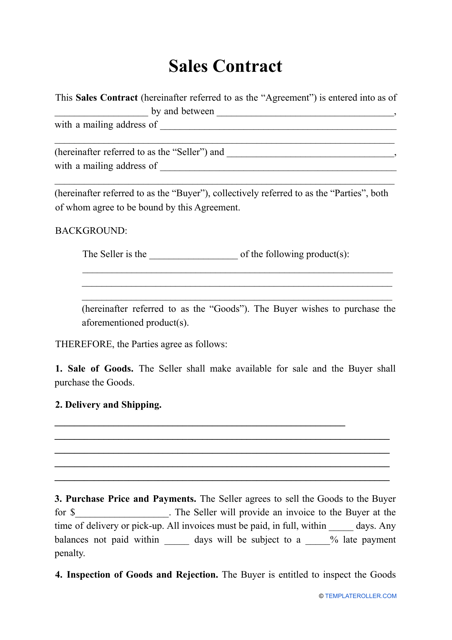 What Is a Sales Contract?
A Sales Contract is a contract between a seller and a buyer for the sale of goods, services, or both. It lays out the terms of a transaction for goods or services, identifying the goods sold, listing delivery instructions, the inspection period, any warranties, and the details of payment.
Alternate Name:
These agreements can also be differentiated depending on the method of payment. A simple Sales Contract is used when a buyer pays the full price of the product immediately. An Installment Sales Contract is used in cases where a buyer purchases an item on an installment basis.
You can download our Sales Agreement template through the link below or create your own document with our online form builder.
How to Write a Sales Contract?
A Sales Contract should consist of of the following sections:
Introduction. Information about the parties (the seller and the buyer) and the goods or products up for sale.
Delivery. This part contains information about the delivery of goods. The shipping method, the location of the delivery, and the transportation charges should be defined here.
Prices and Payments. In this part information such as the value of goods, the currency of payment, the payment terms, the value, and the terms of the payment penalty should be indicated.
Inspection of Goods and Rejection. The buyer is entitled to inspect and accept, or reject the delivered goods. In the event that products do not comply with the specifications, the buyer shall notify the seller of such nonconformance and give the seller a reasonable opportunity to correct it.
Title. It is usually indicated that the title to the goods remains with the seller until the buyer accepts delivery.
Warranty. The seller guarantees that at the time of delivery to the buyer, the products will be free from defects in workmanship and material. The buyer must notify the seller in writing of the nonconformance of any product within the warranty period and return the product to the seller within the fixed term after such a discovery.
Excusable Delay or Failure to Perform. The seller shall be excused from delays in delivery and performance caused by acts that are outside of the seller's control, such as floods, fires, labor strikes, war, material shortages, etc.
Disputes. Except as otherwise specifically agreed in writing by the buyer and the seller, any dispute, which is not resolved by the parties shall be adjudicated by any court of competent jurisdiction.
Entire Agreement. In the event that the parties desire to change, add, or otherwise modify any terms, they shall do so in writing to be signed by both parties.
---
Related Forms and Topics:
Download Sales Contract Template