Monthly Sales Report Template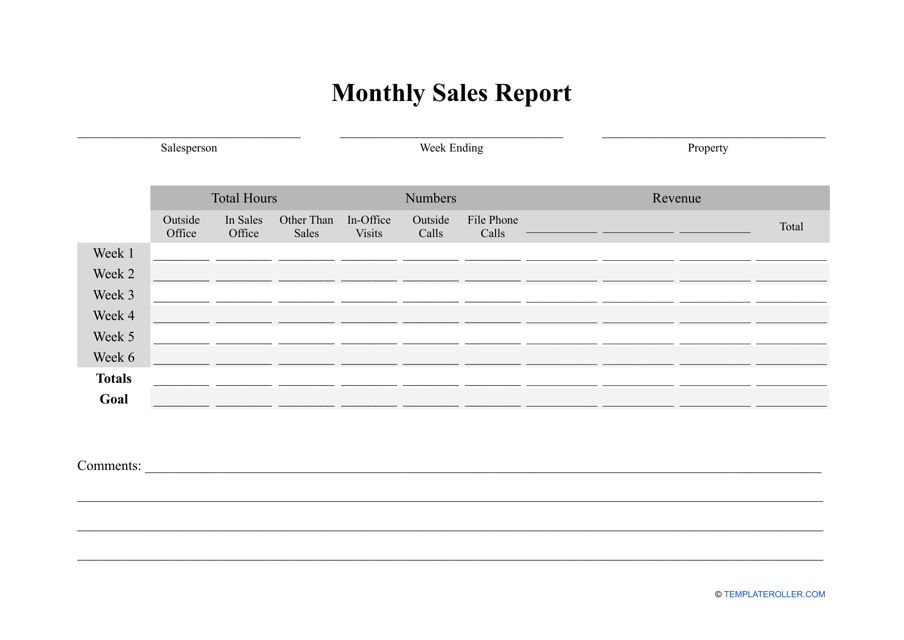 Fill PDF Online
Fill out online for free
without registration or credit card
To track your sales team's performance throughout the year, creating a Monthly Sales Report will give you the ability to compare sales performance on a month-by-month basis. This report will also allow a sales team manager to focus on areas like an individual team member's performance, demand trends, and analyze for any issues that could be holding back better results.
Alternate Name:
Monthly Sales Analysis Report.
A Monthly Sales Analysis Report can look very different depending on the type of business and what metrics you are most interested in measuring. Before creating the report you will want to determine what aspects of the sales data to track and measure, and if this will be based on the performance of each individual or as a team. However, all sales reports should include metrics such as predicted performance, actual progress (based on the monthly history), future goal expectations, and any tasks that still need to be completed. A Monthly Sales Report template can be downloaded below.
How to Write a Monthly Sales Report?
To begin writing a Monthly Sales Report, include the following information:
You can begin the report by creating an overview of the results to give your audience an idea of what the report will entail. Later in the report, you can focus on specific categories.
Based on your company's industry and goals, determine the categories that will be in the report.

Since the report will be shared with both your team and individuals from other departments, you will want to include the most positive news at the beginning of the report.

This report is usually brief, however if your data requires more analysis, you can dive more in-depth into the information to help paint a picture for your audience.
You will want to make sure the language can be understood by any department head of your company, so avoid terminology that may only be relevant to the sales team.
Data and graphs in the report can be separated by projects or specific types of tasks within the sales department.

For example, if you had a recent holiday sale, you could examine the results of the sale based on the other months throughout the calendar year, or run reports based on specific services or items your business sells. This can help you track new and emerging trends which can help your team adapt and prepare for future months.

Finally, if there are targets that were not met, you can explain what might have caused these issues (such as difficulty with procuring materials or a natural disaster) and how your team plans to meet these targets in the future.

If there are specific sales targets that often take a longer than average amount of time to complete, you can make a note of this information in the report so that the audience understands what the data might not represent by itself.

Close the report by restating the key takeaways from the information and future goals for the following months.
---
Still looking for a particular template? Take a look at the related templates below:
Download Monthly Sales Report Template