Daily Sales Report Template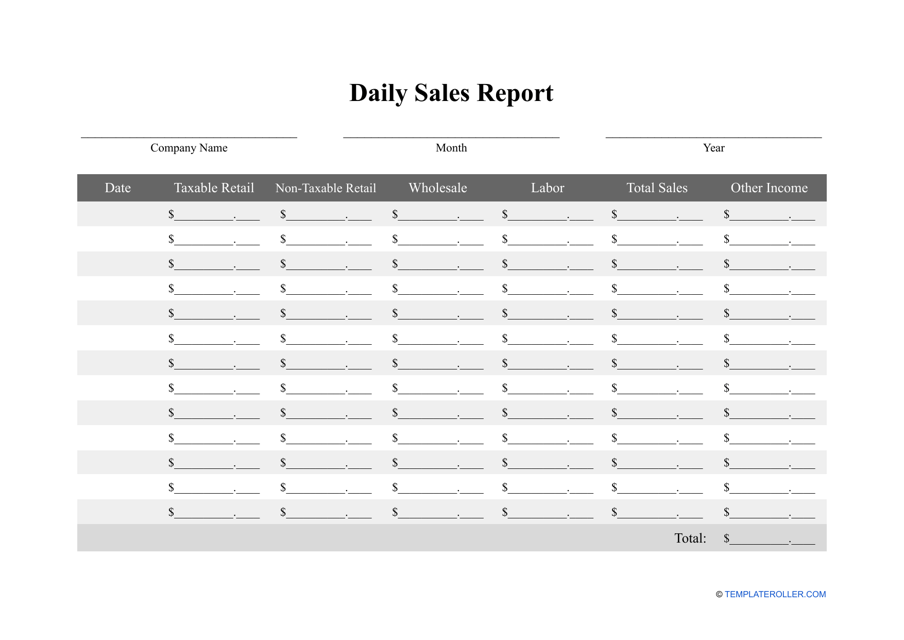 Fill PDF Online
Fill out online for free
without registration or credit card
A Daily Sales Report is a typed or handwritten statement prepared to show and later analyze the performance of salespeople, learn which products are in demand, and discover new opportunities for the development and growth of the organization.
Alternate Name:
Daily Sales Activity Report.
Whether you are responsible for monitoring sales of the small business or you are entrusted with handling the day-to-day activities of the big company, this document will reveal sales trends, demonstrate which employees are the most valuable to the organization, and help the entity to plan more efficient sales strategies. You can find a Daily Sales Report template through the link below.
How to Write a Daily Sales Report?
Here is how you should compose a Daily Sales Activity Report:
Begin with the title - whether you plan to keep hard copies of reports or opt for an online storage system, it is necessary to think about a proper name for your document. Since this document should be prepared at the end of every business day, add a date at the top of the page.
Although there is no uniform Daily Sales Activity Report format that would work flawlessly for any business, it typically looks like a table with different key performance indicators and a summary of leads that allow the management to assess the contribution of salespeople to the company. Do not exceed one or two pages especially if the employee responsible for maintaining the records has to draft a new statement every day.
Communicate with supervisors to find out whether you should base new Daily Sales Reports on older documentation or they would prefer you to move on collecting new data only.
Indicate the number of new clients and leads the business has attracted or registered. Most businesses have sales quotas - you can enter the percentage of required sales level achieved in one day.
List all the sales representatives and state the contribution of every single one of them to the sales made during the shift. In case you notice a certain salesperson is doing better than others, pay attention to their work and later ask their colleagues to replicate their performance.
If you were present at the store or sales outlet during the working day and were able to keep track of the representatives' work, share your own experiences in a separate column and grade the employees - it may come in handy when the management distributes bonuses, determines who deserves a promotion, or announces the employee of the month.
Record the number of contracts signed and deals closed during the day. In case you find out about a terminated agreement or return of the goods, learn the reason behind it - it is possible the sales representative did not do their job properly and the customer remained unsatisfied.
Make sure the reports you draft in the future are consistent - they should contain the same details and look the same to facilitate the evaluation of sales performance.
---
Still looking for a particular template? Take a look at the related templates below:
Download Daily Sales Report Template