Installment Sales Contract Template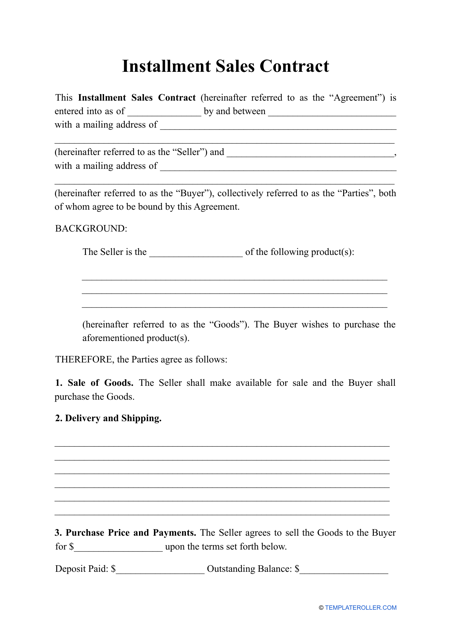 Fill PDF Online
Fill out online for free
without registration or credit card
What Is an Installment Sales Contract?
An Installment Sales Contract is a contract in which a buyer takes possession of the property immediately but does not receive the deed and title until a series of payments (installments) have been made. The contract is used in cases where a buyer purchases good on an installment basis. For example, it is used in cases such as buying a car, a motor vehicle, real estate, or with other expensive items.
An Installment Sales Contract in retail, specifically, is a contract in which a buyer agrees to pay a seller for an item in installments, along with a financial charge or with the provision that the ultimate price will be higher than if the buyer had paid the full price initially. It's an agreement between a customer and a dealer, but not with a bank.
You can download our Installment Sales Contract template through the link below or create your own document with our online form-builder.
How to Write an Installment Sales Contract?
What sections does the standard Installment Sales Contract contain?
Information about the parties: a seller and a buyer, the property for sale.
Payments details, including the amount of the purchase price, the interest payments, and the rate of interest.
An installment plan. This plan determines the time frame of each installment payment and how the interest charges will be accrued during each installment period.
Warranties. A clause containing any warranties may be included in the agreement. The warranties are any representations or statements made by the seller regarding the quality or value of the goods.
Insurance. The seller may require the buyer to purchase and maintain insurance for the goods until the full amount of the installment payments have been paid.
Default. This section includes what constitutes a default by the buyer and the seller's right to reclaim the property.
Signatures of the parties.
---
Related Forms and Templates:
You can use our basic Sales Contract Template in cases where a purchase or sales transaction is made without installment;
Not the form you were looking for? Check out our library of printable Service Contracts.
Download Installment Sales Contract Template