Cleaning Service Contract Template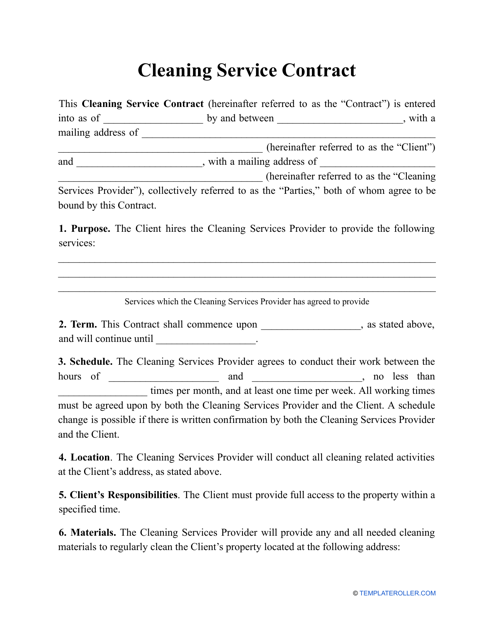 Fill PDF Online
Fill out online for free
without registration or credit card
What Is a Cleaning Service Contract?
A Cleaning Service Contract is a legal document signed by the cleaning service provider and the customer to record the details of professional janitorial services to clean a house or workplace. If you are a homeowner, realtor, or office manager, this is the perfect way for you to establish the terms and conditions of an arrangement between you and the cleaning service, whether it is an individual or company that provides the cleaning.
This type of agreement can also be useful to freelance maids and janitors as it assures the prospective clients of their professional credentials. If you need your own Cleaning Service Agreement, you may compose it using our online form builder or simply download a Cleaning Service Agreement template below.
How to Write a Cleaning Service Contract?
Using a contract helps ensure the cleaning services business remains profitable and provides hard deadlines for payment to keep the revenue consistent. Furthermore, there are benefits for clients who choose to sign this document. The contract serves as evidence in case of a dispute or disagreement because it is recognized by a court of law. The likelihood of miscommunication is reduced, and a properly drafted agreement serves as the foundation of your professional relationship.
Make your Cleaning Service Agreement as effective as possible by discussing these details with your cleaning service provider:
Ask the provider for their license number to see if it is a registered business to help build trust.
Determine the services you would like to receive along with their schedule. Identify the specific times of the day and week the cleaning professionals will visit your home or office. Also, communicate your expectations for what level of service and detail must be provided for each cleaning task. This will clear misunderstandings about the scope of work you agree upon.
Talk about the prices to ensure you and the other party are on the same page. Talk about the payment method you are going to use - cash, check, credit card, etc.
What to Include in a Cleaning Service Contract?
Add the following clauses to your Cleaning Service Contract template:
Name and contact information of the cleaning service and the customer.
Location and time of day for the cleaning service provider to arrive.
List of provided cleaning services - lot maintenance, sweeping, mopping, vacuuming, garbage disposal, window washing, restroom cleaning, etc.
Frequency of the cleaning service. State if it is a one-time situation or a regularly scheduled job.
Description of the necessary cleaning equipment and consumables. Write down who will provide them.
Payment information. Traditionally, an hourly rate is used. Indicate the amount of deposit, the date of payment, and the chosen method of payment.
Signatures of the parties.
You may state in a separate clause that the service provider is not an employee of the client and acts as an independent contractor.
---
Still looking for a particular form? Take a look at these related forms:
Download Cleaning Service Contract Template