Dog Walking Contract Template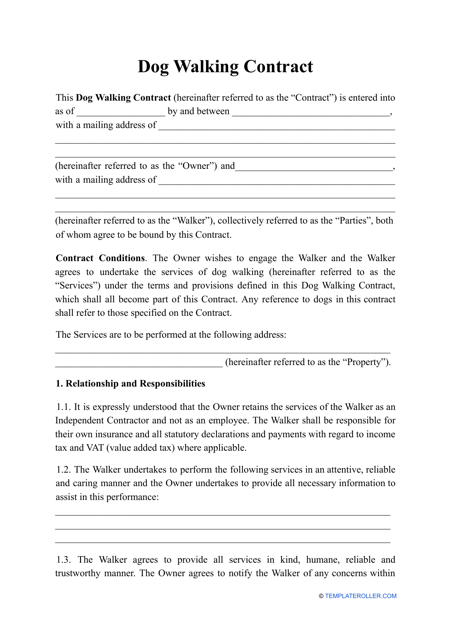 Fill PDF Online
Fill out online for free
without registration or credit card
What Is a Dog Walking Contract?
A Dog Walking Contract is a legal document signed by a dog owner and a walker regarding dog walking services. Since dogs require exercise and fresh air several times a day, their owners are in need of an arrangement with dog walkers to have their dogs walked during working hours, holidays, vacations, and whenever walking services are needed.
You do not have to hire a professional lawyer to draft this document - simply download a free Dog Walking Contract template through the link below or compose a more personalized agreement using our online form builder.
How to Make a Contract for Dog Walking?
Meet with a potential counterpart in person to discuss the terms of the agreement and manage your expectations. Also, it is recommended to introduce your dog to a dog walker to make sure they get along. You should include the following information in your contract for dog walking services:
Names of the parties, their contact information, and the date of signing the agreement.
Services the dog walker must provide. Add any details you wish - for instance, dog sitting services, overnight care, and boarding. Discuss optimal walking times and access to the dog owner's premises.
Duration of the agreement and cancellation. Indicate the start and end dates of the contract. It is possible to cancel the deal at any time with a written notice, as well as extend the agreement if the parties sign the papers once more.
Fees and expenses. It is possible to have different rates for weekends and holidays. Discuss charges for last-minute appointments, cancellations, and medical emergencies.
The dog walker's safety. Decide how to handle difficult weather and road conditions and agree on the required equipment - a collar, harness, ID tags, and a leash.
Liability and insurance. State the amount of liability the walker is responsible for in case of an accident and details of the dog walker's insurance.
Signatures of the parties.
This agreement is not exclusive - the dog walker reserves the right to walk pets for other clients, but it is possible to limit the number of pets walked at once if you put this detail in your Dog Walking Contract.
---
Didn't find what you were looking for? Check out these contracts by clicking the links below:
Download Dog Walking Contract Template