DA Form 5840 Certificate of Acceptance as Guardian or Escort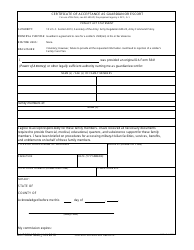 What Is DA Form 5840?
DA Form 5840, Certificate of Acceptance as Guardian or Escort is a form that is filed by a guardian and signifies their agreement to care for a child or children in the absence of their parents.
The latest version of the form - sometimes incorrectly referred to as the DD Form 5840 and previously listed as DA Form 5840-R - was released by the Department of the Army in June 2010. An up-to-date DA Form 5840 fillable version is available for download and online filing below or can be found through the Army Publishing Directorate website.
The form is part of a series of Family Care-related paperwork. The document verifies that the guardian has been thoroughly briefed on all the responsibilities he will assume, the locations of pertinent documents and the procedures for accessing military and civilian facilities and services on behalf of the soldier's members of the family.
CERTIFICATE OF ACCEPTANCE AS GUARDIAN OR ESCORT
For use of this form, see AR 600-20; the proponent agency is DCS, G-1.
PRIVACY ACT STATEMENT
AUTHORITY:
10 U.S.C. Section 3013, Secretary of the Army: Army Regulation 600-20, Army Command Policy.
PRINCIPAL PURPOSE: Guardian's agreement to care for a soldier's child(ren) in his or her absence.
None.
ROUTINE USES:
Voluntary; However, failure to provide all the requested information could lead to rejection of a soldier's
DISCLOSURE:
Family Care Plan.
was provided an original DA Form 5841
I
(Power of Attorney) or other legally sufficient authority naming me as guardian/escort for:
NAME (s) / AGE (s) OF FAMILY MEMBERS
family members of:
NAME (s)
I agree to accept responsibility for these family members. I have received all necessary documents
required to provide financial, medical, educational, quarters, and subsistence support for these family
members. I have been briefed on procedures for accessing military/civilian facilities, services, benefits,
and entitlements on behalf of these family members.
TYPED OR PRINTED NAME OF GUARDIAN
ADDRESS (Include ZIP Code)
SIGNATURE
DATE (YYYY/MM/DD)
TELEPHONE NUMBER (Include Area Code)
E-MAIL ADDRESS
NOTARY:
STATE OF
COUNTY OF
Acknowledged before me this
day of
,
.
(Notary Public)
My commission expires:
PREVIOUS EDITIONS ARE OBSOLETE.
APD LC v1.00ES
DA FORM 5840, JUN 2010
Download DA Form 5840 Certificate of Acceptance as Guardian or Escort
How to Fill Out DA Form 5840?
An overview of the purpose of the form and filing instructions are provided in the Army-issued AR 600-20, Army Command Policy, released in November 2014. The fillable DA Form 5840 form is designed as a letter and contains blank spaces that require the following information:
The name of the guardian;
The names and ages of the dependent family members that will be in the care of that guardian;
The address, telephone, and e-mail of the guardian along with their signature and the date of signing.
The form is also filled out and verified by a Notary Public after all lines are completed by the guardian to-be.
DA 5840 Related Forms
The Army helps the soldiers in providing the necessary care for the dependent family members during periods of military-related absences. Family care paperwork includes the following forms: