Sample Social Security Verification Letter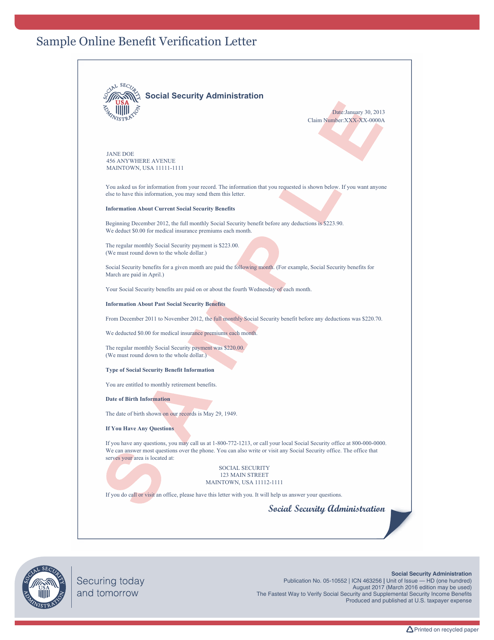 What Is a Social Security Verification Letter?
A Social Security Verification Letter is an official document issued by the Social Security Administration. It states your annual income information as well as the benefits you have earned for your retirement, Medicare or what you will be entitled to in case of a disability. A sample letter is available below for reference.
Alternate Name:
Social Security Benefits Letter.
A Social Security Benefit Verification Letter contains your personal information, date of birth, Social Security Number (SSN) and detailed information on benefits that you are receiving or what you will receive in the future. Since it has all your income information dating back to the beginning of your working career, the letter is used as an income proof when applying for loans, mortgages, etc. Every year after your tax return is processed, the benefit's information is updated.
How to Get a Verification Letter From Social Security?
A Social Security Letter of Verification can be requested through the official website, or by calling the toll-free number. Doing it through the official website is fast, free, and can be done from your home.
For online access, you will need to create a personal account, which takes about 10 minutes. You must be at least 18 years old and have an e-mail address, postal address, and a Social Security Number. Some personal information to verify your identity will be required. Provide one of the following: bank card number, information from the latest W-2 tax form or from a 1040 SE (self-employment) tax form.
To create a personal account go to the Social Security government website and go through a few easy steps:
Decide on a login and passcode;
Provide required personal information and answer questions;
Activate the account by entering the verification code sent via email or SMS.
After logging on to your "My Social Security" account, scroll down to the benefits & payments section. There you find all necessary topics to view, print or save for later, and order to have an official form sent to you by regular mail. It will take about 10 business days for you to receive it by postal services.
If you plan on making a request by phone, expect longer wait times on Mondays and during the first hour each workday. Call 1-800-772-1213 during the workweek hours and ask to have it mailed to you. It will be posted to the address on your Social Security record within 10 business days.
---
Related Forms and Topics:
Download Sample Social Security Verification Letter