Form MN1 Application for Registration of a Child Under 18 as a British Citizen - United Kingdom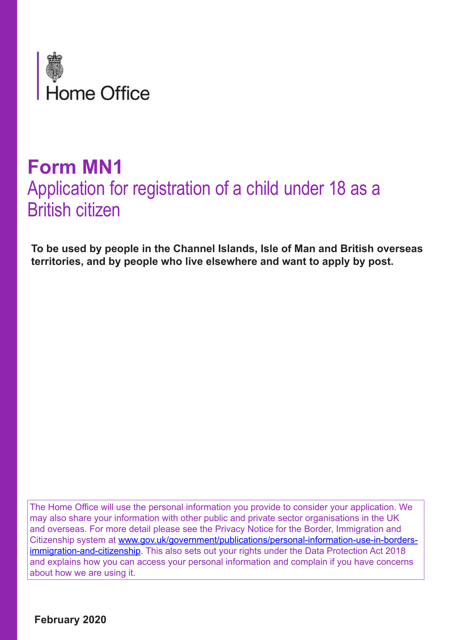 What Is Form MN1?
Form MN1, Application for Registration of a Child Under 18 as a British Citizen, is used by individuals that reside in the Isle of Man, the Channel Islands, or any other British territory overseas and are seeking to have a biological or adopted child formally recognized as a British citizen.
Alternate Names:
MN1 Application Form;
British Citizenship Application Form MN1.
This form is issued by United Kingdom Visas and Immigration and was last updated on February 1, 2020. A printable MN1 Form is available for download through the link below.
Form MN1 Instructions
Provide the following information to fill out the MN1 Application Form:
The child's personal information (their full name, current nationality, National Insurance Number (if applicable), date and place of birth, current marital status, phone number, and email address). Include their most recent address (if you move after submitting this application be sure to notify immigration offices to keep them up to date of any changes while the review process is ongoing).
Those filing the application with assistance from an immigration professional will need to include their name and contact details.
If your child will be turning eighteen prior to when the application will be approved, they will also be asked to complete a citizenship ceremony with their local authority once the application has been authorized.
You will next complete the general information portion about both parents. In the section reserved for parents' information, you will be asked additional questions regarding your nationality, any current service in the military, details of your relationship, and information about your relationship at the time of the child's birth.
Provide the history of where the child has lived within the last five years (unless they have not lived within the British territories for a full five years to date) and if the child currently qualifies as a resident of the United Kingdom or British territory. If the child has not resided in one of these approved countries continuously, include the country where your child has lived, reasons for said absences (for example if it is due to employment demands of the parents), and dates when absent from the United Kingdom, and the total number of absent days.
Should your child have the option to apply for British citizenship by way of descent, you will need to confirm under which parent will apply and all addresses where this parent has resided for the last three years (both domestic and abroad).
If one of the parents qualifies as an EEA national and can confirm they qualify as a permanent resident through the EC Treaty, the parent will then need to supply all proof that will confirm their claims of residency (such as through study at a school or university, employment, retirement, etc) for the previous five years.
The next section of the British Citizenship Application form MN1 involves disclosing your child's behavioral, academic, and emotional histories to assess if an applicant's character is deemed to be in good standing. This will include information about the child's school or employer, questions assessing any past instances of criminal behavior or warnings given by an officer, or played a role in acts deemed to be crimes against humanity.
Include all contact information and details for two references for the child who have agreed to attest to the child's good moral character. Include the child's information for the biometric residence permit if your child has not already had one completed. If your child is younger than sixteen they must be accompanied by a parent or guardian at the time they go to complete the permit process.
Where to Send Form MN1?
To send in your application by mail, be sure to forward Form MN1 fees and paperwork to the Lieutenant Governor or the Governor for those residing in areas that qualify as part of the United Kingdom or the recognized territories overseas. For areas not within British territory, send in your application to Department 1, United Kingdom Visas and Immigration, Capital Building, New Hall Place, Liverpool, L3 9PP.
Download Form MN1 Application for Registration of a Child Under 18 as a British Citizen - United Kingdom