Claim Denial Letter Template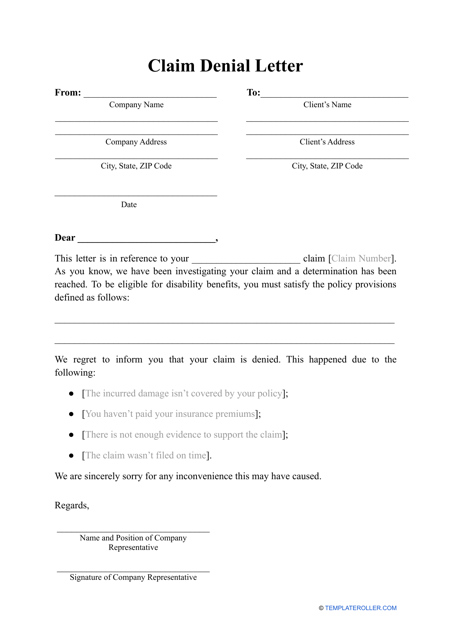 What Is a Claim Denial Letter?
A Claim Denial Letter is a formal document completed by the individual or business to reject the other party's demands and requests. Whether you represent an employer who cannot satisfy the employee's request for a leave of absence, you do not want to approve a rental application from a potential tenant, or you do not think you owe money to a customer, a polite yet firm rejection of the demand presented to you in a Claim Letter can be the first step to assert your position and save you time and money.
You can download a Claim Denial Letter template through the link below.
Once you receive a claim, take your time to review the documentation that was mailed to you - several days or weeks should be enough for you to make your case - and compose a response that protects your interests.
How to Write a Claim Denial Letter?
Follow these steps to draft a successful Letter of Claim Denial:
Write your response to a claim on the official letterhead of the company with the name, logo, and other details that make your brand recognizable.
Greet the individual or company that sent you their demands and write down your name and job title.
Refer to the Claim Letter you received and indicate the reason for the denial - perhaps your insurance client was in the accident not covered by your policy or the customer did not send you a receipt that proves the delivery of goods of inferior quality.
List documents and other evidence you have that proves you do not owe anything to the claimant - for example, you may make a reference to the clause in your agreement with the other party that lets you deliver goods within a month while the client claims you were late with the delivery. You can also mention the laws of your state if they are applicable to your situation.
Thank the client for the claim they prepared and tell them that despite this denial, you have high hopes for the professional relationship you have had so far and will have in the future.
Sign and date the document.
Once your Claim Denial Letter is ready, attach copies of supplemental documentation to the envelope sent to the other party via certified mail to create a paper trail in case the issue will be examined in court.
---
Check out these related letter templates:
Download Claim Denial Letter Template