DA Form 7349 Initial Medical Review - Annual Medical Certificate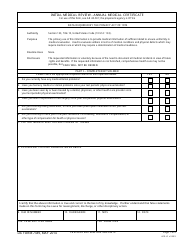 What Is DA Form 7349?
DA Form 7349, Initial Medical Review - Annual Medical Certificate is a form used for diagnosing the soldier's medical conditions to determine any healthcare-related problems that may require special care in the future. The form also provides detailed medical information to make sure that all medical procedures are properly coordinated.
The latest version of the form - sometimes incorrectly referred to as the DD Form 7349 - was released by the Department of the Army (DA) in May 2014. An up-to-date DA Form 7349 fillable version is available for digital filing and download below or can be found through the Army Publishing Directorate website.
The DA 7349 can be used to record results of annual health screenings of Ready Reserves members. The DA Form 3725 or the Army Reserve Status and Address Verification is a related form used to during annual medical examination of Individual Ready Reserve Soldiers.
INITIAL MEDICAL REVIEW - ANNUAL MEDICAL CERTIFICATE
For use of this form, see AR 40-501; the proponent agency is OTSG
DATA REQUIRED BY THE PRIVACY ACT OF 1974
Section 133, Title 10, United States Code (10 USC 133).
Authority
The primary use of this information is to provide medical information of sufficient detail to ensure uniformity in
Purpose
medical evaluation. Used to evaluate soldiers in terms of medical conditions and physical defects which may
require medical care or which may require a determination of medical readiness.
None.
Routine Uses
The requested information is voluntary because of the need to document all medical incidents in view of future
Disclosure
rights and benefits. If the requested information is not furnished, comprehensive health care may not be
possible, but CARE WILL NOT BE DENIED.
PART I -- COMPLETED BY SOLDIER
Please check the appropriate response column for each question below.
YES
NO
1.
Do you currently have any medical/dental problems?
2.
Have you had any medical or dental problems since your last periodic physical examination?
3.
Have you been seen by or been treated by a dentist, physician, or other health care provider since
your last periodic physical examination?
4.
Have you been hospitalized or had surgery since your last periodic physical examination?
5.
Are you currently taking medication, or have you taken prescription medication since your last
examination?
6.
Are you currently or have you in the past received a VA Disability, Workmen's Compensation, or
other type of compensation for health or physical reason?
7. LIST ANY MEDICATIONS YOU ARE CURRENTLY TAKING
8. EXPLAIN ANY POSITIVE ANSWERS GIVEN ABOVE
I certify that the above information is true and correct to the best of my knowledge. I further understand that false statements
made on this form may be cause for reassignment, discharge, or other disciplinary action.
9. DoD ID NUMBER
10. RANK/GRADE
11. MOS
12. DATE
13a. PRINTED/TYPED NAME
13b. SIGNATURE
PREVIOUS EDITIONS ARE OBSOLETE
Page 1 of 2
DA FORM 7349, MAY 2014
APD LC v1.00ES
Download DA Form 7349 Initial Medical Review - Annual Medical Certificate
How to Fill out DA Form 7349?
An overview of the form and filing guidelines can be found in the Army Regulation 40-501, Standards of Medical Fitness, released in June 2017. DA Form 7349 instructions are as follows:
Part I is completed by the soldier. It contains a questionnaire with six yes-or-no questions that have to be answered by the soldier themselves.

Each positive answer requires a further explanation in Box 8. The soldier has to list all medications they are currently taking in Box 7.
Failure to provide full information might lead to difficulties in receiving comprehensive health care, but care will not be denied either way.
The bottom lines of the page require identifying information. This includes the service member's printed name and DoD ID, their rank or grade, MOS, a signature and the date of filing the form.

Part II is filed by the initial reviewer. This part contains the initial notes of the examination. The reviewer has to decide whether the Soldier is medically ready for duty or requires a further evaluation. This part of the form requires the date of the review and the signature of the reviewer in Boxes 16 and 17.
Part III is filled in by a physician. All comments are listed in Box 18 and the results of the soldiers readiness evaluation is provided in Box 19. The physician must complete Box 20 with the PULHES using the Physical Profile Functional Capacity Guide in Table 7-1 of AR 40-501. Box 21 specifies whether the Army Physical Profile (DA Form 3349) is attached to the submitted certificate.

PULHES stands for general physical condition, the upper and lower limbs condition, hearing, sight, and physiatric condition.

Part IV is filled by the approving authorities and requires a recommendation based on the results of the examination along with the date and signature of the authorized official.